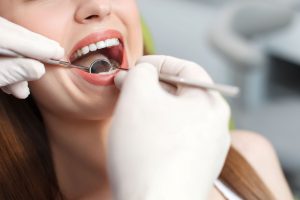 Your toothbrush and floss are your first line of defense against preventable oral health issues, like tooth decay and gum disease. While they are effective, they are only half of the care you need. To keep your smile healthy, the American Dental Association recommends that you visit your dentist in Upper Arlington twice a year for a cleaning and checkup. Unfortunately, 32% of adults skip their routine appointments because they feel that they are not necessary. If you are among those who do not visit their dentist twice a year, you are placing your oral health at risk.

Why is a Cleaning Important?
It is best to brush your teeth twice a day for at least two minutes each session and floss every night before going to bed. Sadly, most Americans skimp their oral hygiene habits at home. In fact, only 44% of men and 37% of women brush twice a day while only four out of ten adults floss daily. Without the right care, you are allowing harmful bacteria and plaque to accumulate in your mouth.
Even with the best oral hygiene habits, there are still areas in your mouth that you cannot clean at home, like underneath your gum line. When the spaces are not cleaned by your dentist, you significantly increase your risk of tooth decay and gum disease.
Although you may believe that your smile is healthy without a routine cleaning, it is estimated that 50% of adults have a form of gum disease and 27% currently have at least one untreated cavity.
Why is a Checkup Necessary?
All too often, it is believed that you do not need to see your dentist until after a problem has developed, but this could not be further from the truth. Routine appointments allow your dentist to monitor your oral health to detect areas of concern sooner. With quick intervention, it reduces the need for a costly or invasive treatment in the future. As a result, you will help to lower your long-term dental costs. In fact, it is estimated for every $1 spent on preventive care, you will save $8-$50 on restorative or emergency services.
A preventive appointment every 6 months will help to prevent an array of dental complications, including:
Tooth decay
Tooth abscess
Loss of teeth
Gum disease
Make an Investment in Your Oral Health
Although your schedule is busy, if you miss your routine dental appointments, you are opening the door to several painful and uncomfortable oral health issues that could have otherwise been avoided. Do not place your smile at risk. Commit to your dental health with a cleaning and checkup twice a year.
About Dr. Angela Courtney
Dr. Angela Courtney has a passion for dentistry and helping her patients achieve a healthy smile though comfortable care. With perfectionism in her nature, she strives to create the personalized solutions you need to maintain healthy teeth and gums. If it has been more than 6 months since your last visit, do not wait. Contact our office today to schedule your cleaning and checkup.