Your Upper Arlington Children's Dentist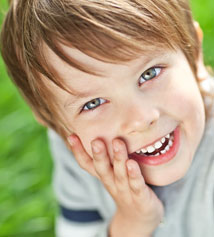 What do you look for in a family dentist? High-quality care, a calm and soothing manner, an educational but fun atmosphere for your kids? At Artistry Smile Center, Dr. Courtney and her team provide this and more. Our Columbus family dentistry practice strives to nurture enjoyable and positive children's dentistry experiences so that your child can develop good dental habits that last a lifetime. How? By making sure your little one feel like the only patient in the office with lots of one-on-one attention.
First Children's Dentist Visit
Believe it or not, children should have their first dental visit about six months after their primary teeth have erupted, or generally around their first birthday. For our youngest visitors, Dr. Courtney will provide a quick exam to make sure that your child's development is on track. This gives Dr. Courtney the opportunity to spot and prevent any potential oral health problems and treat them early on when procedures aren't as scary. Unless we see an issue, your child will just need to return in six months for another children's dentistry checkup.
Protecting Little Smiles
Around the age of 3, we'll being providing professional hygiene as a part of our children's dentistry program. This allows us to clean plaque buildup from teeth and gums. To protect young teeth from decay, Dr. Courtney may suggest dental sealants. With one quick and comfortable application, dental sealants create a thin, clear barrier between natural tooth enamel and the bacteria that cause caries. In addition, we may recommend fluoride supplements to help keep teeth strong and fight against tooth decay.
Maintaining Good Oral Health
As a parent, you know your child needs proper nutrition to grow up big and strong. And this holds true for their teeth as well. Kids who eat a balance diet with plenty of fruit, vegetables, and diary have fewer instances of cavities and stronger adult teeth. It's important to avoid sticky and sugary foods, such as dried fruit and candy, as they can significantly increase a child's risk of developing dental caries.
Contact Us to Learn More Today
At Artistry Smile Center, we believe in enriching lives by exceeding expectation. This is just as true for our children's dentistry program as it is for restorative and cosmetic dentistry procedures. It's how we're different from other family dentists in Columbus, Upper Arlington, Dublin, and Westerville. Our team wants to help you children keep their smiles fresh and beautiful, so be sure to contact us and schedule bi-annual checkups for your kids!