Clear Correct for Upper Arlington Residents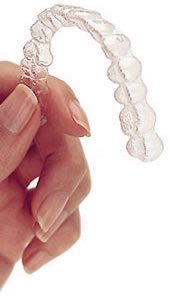 Your smile is one of the first things people notice about you, and often the thing that they remember about you, too. A bright, straight beautiful smile is never forgotten.
But what if you're not happy with the look of your smile? Crooked teeth can cause you to hide your smile behind your hand, or to simply keep your lips tightly closed. Professional adults that want to straighten their teeth, but don't want to endure years of orthodontic treatment and metal braces should talk to Dr. Courtney about Clear Correct clear aligners.
Straighten Crooked Teeth with Clear Aligners
To get the straight, beautiful smile you've always dreamed of, you don't have to wear bulky metal braces. Instead, image-conscious adults and teens can choose Clear Correct, a clear alternative to traditional braces, to achieve that beautiful, healthy smile. The benefits of Clear Correct include:
They're invisible. Clear Correct's aligners are designed to make your treatment as discreet as possible, so your friends and coworkers will hardly notice a different.
They're comfortable. Unlike traditional braces, Clear Correct won't cause the mouth abrasions associated with uncomfortable wires and brackets of traditional braces.
They're clean. Clear Correct's aligners can be taken out for eating and to make brushing and flossing easier.
They're fast. Treatment times will vary for every patient, but in many cases treatment can be completed in just over a year.
How does Clear Correct Work?
Using 3D images captured right in Dr. Courtney's Columbus dental office, the Clear Correct lab will create your custom-made set of aligners. Wear each aligner according to Dr. Courtney's instructions, usually about two weeks, then switch to the next in the series. Because Clear Correct aligners are clear, you'll be able to see the progress your making toward a straighter smile from week to week. Treatment time varies by patient, but will generally take 12-18 months to complete giving you the smile you've always wanted in less time than traditional orthodontics can.
Clear Correct for a Healthier Smile
Did you know that straight teeth can provide you with better oral health? Aside from improving the appearance of your smile, straight teeth can also reduce the risk of tooth decay and gum disease and can properly align your bite. This means fewer cavities and less to worry about at your general dentistry visits.
Schedule Your ClearCorrect Consultation
Most adults are candidates for Clear Correct treatment. Contact us for your Clear Correct consultation and discover what's possible for your smile at our Columbus cosmetic dentistry practice. Dr. Courtney helps patients in Columbus, Upper Arlington, Dublin, and Westerville achieves their vision of beautiful smiles and natural beauty every day.