Straightening Smiles with Invisalign in Upper Arlington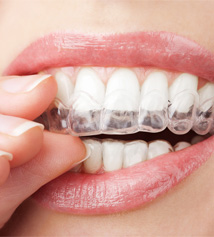 Have you been daydreaming about a beautiful smile? One that's straight and gives you the confidence to smile at everyone you meet? Stop dreaming and start straightening today with Invisalign clear aligners.
What is Invisalign?
For patients who would like to improve the appearance of their smiles, Dr. Jennifer Hoffner offers contemporary cosmetic dentistry enhancements performed with precision and skill at our Columbus dentistry practice. This includes the Invisalign clear aligner system. Invisalign takes a modern approach to straightening your teeth. Instead of metal brackets and wires, Invisalign uses a series of clear trays that quickly and gently move your teeth into a more desirable position.
Invisalign Treatment Process
If you're ready to make the most of your smile, the first step is talking with Dr. Hoffner about Invisalign clear aligners. During your consultation, we'll discuss your smile goals, and provide a thorough examination of your teeth, gums, and bite to determine if you're a candidate for the Invisalign procedure. Dr. Hoffner always put patient comfort and aesthetics in the forefront, a philosophy that creates healthy, functional, comfortable, and beautiful smiles.
Getting Started with Invisalign
If Dr. Jennifer Hoffner determines that Invisalign is the right orthodontic treatment for your unique case, we schedule a second visit for x-rays, digital pictures, and impressions of your teeth. A 3D image is then rendered which Dr. Hoffner uses to map out your personalized treatment plan and show you a virtual photo of how your teeth will look after treatment. Your Invisalign clear aligners will then be fabricated through an authorized lab.
Wearing Your Invisalign Clear Aligners
Orthodontic treatment with Invisalign is easy. Simply wear each aligner in the series as directed by Dr. Hoffner which is approximately two weeks. After 14 days, you'll move onto the next aligner in the series. Since the Invisalign aligners are clear, you'll be able to see your teeth straightening as your treatment progresses.
Benefits of Invisalign
Discreet - Clear aligners mean you won't mind smiling during treatment
Comfortable - Smooth plastic appliances won't cause sores or abrasions
Removable - Take your aligners out to eat your favorite foods and to brush at night
Quick - Invisalign treatment usually takes less time than traditional braces
Schedule Your Invisalign Consultation Today
Contact us to book your Invisalign consultation today. After an initial consultation where we discuss your goals and concerns, we can provide you with additional cosmetic dentistry options, including teeth whitening, porcelain veneers, smile makeovers, and more. Your smile will get bigger every time you receive a compliment about your beautiful, straight teeth.