Building Beautiful Smiles with General Dentistry in Upper Arlington
Preventive Care for Children and Adults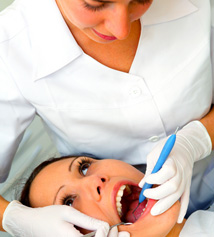 Although Dr. Courtney is a highly experienced dentist with extensive training in aesthetics and neuromuscular dentistry from the world-renowned Las Vegas Institute, she began her practice to help families achieve health and wellness. Our Columbus family dentistry practice has kept area families smiling since 2004, and we always welcome questions. The more you know about oral health, the more confident you'll be in your dental care decisions. Maintaining your ideal smile requires a partnership between Dr. Courtney and the team at Artistry Smile Center and you, and it begins with routine general dentistry.
Regular Dental Checkups
Everyone should visit the dentist at least twice a year. Columbus family dentist Dr. Courtney offers dental checkups for patients of all ages. The appointment includes an assessment for tooth decay, screenings for oral cancer and periodontal disease, and a bite evaluation. If Dr. Courtney finds evidence of dental, periodontal, or bite problems, she will recommend the appropriate general dentistry therapy. With digital X-rays and intraoral photos, Dr. Courtney can show you her findings on a chairside monitor. These visual aids help Dr. Courtney explain your treatment options.
Learning More About General Dentistry Through Patient Education
Your bi-annual general dentistry checkup presents a great opportunity for you to discuss concerns about your oral health, learn the most efficient homecare techniques, and ask questions about the latest restorative and cosmetic dentistry procedures. Our hygienists can teach you how to make the most of your daily homecare with tips for proper brushing and convenient flossing. We may recommend products for you to use at home to ward off decay, gingivitis, and plaque buildup for better general dentistry visits throughout the year.
Schedule an Appointment
Dr. Courtney is accepting new general dentistry patients, so call our Upper Arlington dentistry practice today to schedule a time for your whole family. In addition, we can offer advice regarding aesthetic enhancements through cosmetic dentistry. We also welcome your questions, and you may want to visit our Frequently Asked Questions page while you're here. Our general dentistry team looks forward to helping you maintain a healthy mouth that lasts a lifetime.