Improving Smiles with Porcelain Veneers in Upper Arlington
A great smile can open many doors for the person who displays it with happiness and pride.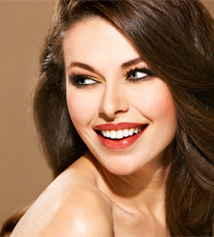 Are there multiple things you wish to change about your smile, such as the color or shape of your teeth, or the repair of cracks and chips? If you've been wondering how you could enhance the look of your teeth, but have refrained from asking because you prefer not to endure multiple treatments and hours in the dental chair, now is the time to talk to Dr. Courtney. Our Columbus cosmetic dentistry practice offers porcelain veneers to create a head-turning smile you'll love to show off!
What are Porcelain Veneers?
Porcelain veneers are thin sheets of ceramic layered for strength. Each sheet is wafer fine, and as they are layered, become strong and translucent just as your natural teeth. Porcelain veneers fit over your existing tooth structure like a sheath, instantly whitening, straightening, and correcting flaws such as breaks and chips. Best of all, porcelain veneers are highly stained and mostly closely resemble healthy, white tooth enamel.
Crafting Your Porcelain Veneers
A straight, white, uniformly-shaped smile is well within your reach. Dr. Courtney's aesthetic training with the renowned Las Vegas Institute gives her detailed insight into how your porcelain veneers should look to compliment your features, hair color, and eye color. While designing custom porcelain veneers, cosmetic dentist Dr. Courtney will assess your facial symmetry, skin tone, and personal preferences to create a look that is uniquely yours.
Dr. Courtney provides exceptional cosmetic dentistry care, and likewise, expects excellence from our partner dental lab. So that your porcelain veneers meet her exacting standards, Dr. Courtney works with only the finest dental labs utilizing the most modern, durable materials for natural-looking prosthetics. We give your selection to our Master Lab Technician at MacVeneers, who will design a smile in wax according to your specifications. You will be able to see how your smile will look prior to moving forward. Once approved, you will be able to "try out" your new smile, as your temporary veneers will look just like the wax-up version. Call for further details!
Benefits of Porcelain Veneers
With porcelain veneers, Dr. Courtney can:
Close gaps
Cover stains
Change tooth length
Create a more uniform appearance
Camouflage cracks
Even out chips
Whiten teeth
Make crooked teeth appear straight
In addition to concealing multiple blemishes at once, porcelain veneers can be placed in just a few dental visits yet completely transform your smile. Dr. Courtney will make sure that your porcelain veneers are crafted with precision. Once permanently bonded, you'll enjoy a brand new smile that provides confidence, the right first impression, and can even improve the quality of your life.
Schedule Your Cosmetic Consultation Today
Patients in Upper Arlington, Dublin, and Westerville find our Columbus dental office convenient, and our team friendly with a calm demeanor and gentle chairside manner. We welcome you to explore the possibilities of porcelain veneers with a consultation. Contact us to schedule your appointment today. Dr. Courtney may also recommend other cosmetic dentistry treatments to enhance your smile, such as Invisalign clear braces or teeth whitening.


Click here to read the full article