Replacing Teeth with Dental Implants in Upper Arlington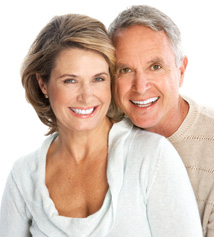 A missing tooth can decrease your self-esteem and negatively impact your oral health. Aside from leaving an unsightly gap in your smile, missing teeth contribute to shifting of remaining teeth, bite problems, gum disease, and bone loss.
Missing teeth can also affect your overall wellbeing. Patients who experience tooth loss are more likely to suffer from decay and gum disease, which can lead to additional health problems that affect the heart, kidneys, brain, and circulatory systems. We want every patient who walks through our door to maintain optimal health and overall wellness, as well as a smile they are proud to show off.
If you're missing a tooth due to trauma or dental disease, consider the most modern and beneficial tooth replacement method to date—dental implants.
Why Choose Dental Implants?
To replace missing teeth and closely imitate nature's design, dental implants are the best option. Because dental implants replace the tooth root, as well as the portion of your tooth above the gum line, called the crown, you can enjoy a strong, lasting prosthetic that allows you to eat virtually any food. Dr. Courtney proudly offers this modern miracle to our patients.
Dental Implant Procedure
To receive dental implants, you'll first need to visit us for a consultation. Dr. Courtney will examine your oral health, bone density, and medical history to determine whether dental implants are the right solution for you. Implant placement involves a brief oral surgery in which a small, titanium post, or posts depending on the number of missing teeth, is inserted into the jawbone. During the healing process, jawbone fuses with the post in a process called osseointegration. This provides a stable foundation for your restoration, and stops additional jawbone loss by replacing the tooth root.
After a healing period, Dr. Courtney can attach your custom crown, bridge, or denture to the implant post(s). Dental implants have maintained a 95% success rate, and with proper follow-up care, they last most people a lifetime.
Implant-Retained Dentures
For increased support and stability, Dr. Courtney may recommend implant-supported dentures or partial dentures. Secured with dental implants, implant-supported dentures eliminate slipping and deter the bone loss that can result with traditional removable prosthetics. Implant-retained dentures will restore your smile and prevent future problems from arising, as well as eliminate the need for adhesive creams.
Contact Us to Learn More About Dental Implants
Are you ready for a complete and beautiful smile? Contact our Columbus restorative dentistry practice to schedule your consultation today. As a restorative dentist in Columbus, Dr. Courtney also offers aesthetic restorations, root canals, and all of the services you want from your trusted family dentist.