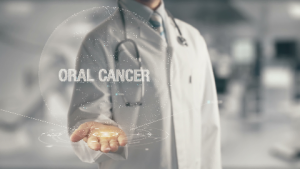 To promote the health of your mouth and body, you take the time to brush and floss every day while also maintaining your regular appointments with your dentist in Upper Arlington. You know that semi-annual appointments are vital for preventing tooth decay and gum disease, but did you know that there is another danger to your oral and general health? Oral cancer is a prevalent problem in the United States. To help detect the cancer early, it is vital to maintain your routine appointments for an oral cancer screening.

Your Risk for Oral Cancer
Every year, nearly 50,000 Americans are diagnosed with oral cancer. Sadly, it results in nearly 10,000 deaths per year. Of those diagnosed with it, only a little more than half will survive more than 5 years. This is often due to late diagnosis. All too often, the cancer is not found until it has metastasized to other areas of the body.
For prompt detection, it is recommended that you undergo an oral cancer screening at your preventive dental appointments for a cleaning and checkup. It is estimated that 84% of oral cancer cases can be detected early by a dentist. Using advanced technology, they can quickly perform a screening at your next checkup to look for cancerous and precancerous cells.
Although anyone can be diagnosed with oral cancer, there are certain factors that increase your risk for it, such as:
Over the age of 40
Use tobacco or smoke
Heavy alcohol consumption
Human papillomavirus
Being male
Unhealthy diet
Prolonged sun exposure
Whether you have risk factors or not, it is best to undergo an oral cancer screening every six months.
Oral Cancer Screenings
During your routine dental appointment, your dentist will look for early signs of the cancer, which can include:
Sores or spots in the mouth that will not heal
Red or white patches in the mouth
Lumps or hard spots in the mouth
Oral numbness or pain
If a suspicious area is found, your dentist will take a tissue sample to send to a dental lab for testing.
Protect Your Health Today
If you tend to skip your routine dental appointments, now you have another reason to make them a priority. They are not just important for keeping your teeth and gums healthy. They are also vital for detecting oral cancer during its early stages. If you have not been to the dentist in the last 6 months, now is the time to schedule an appointment.
About Artistry Smile Center
At Artistry Smile Center, it is our mission to remain fully committed to our patients. With personalized solutions, we help you develop and maintain a healthy smile to promote your general health. With a focus on prevention, we offer the services you need to keep your teeth and gums healthy. In addition, we also offer oral cancer screenings. If you have not had a screening recently or it has been more than 6 months since your last visit, do not wait. Contact our office today to schedule your appointment.