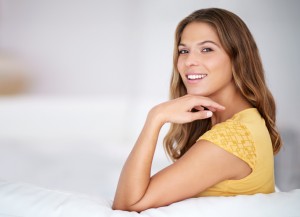 Your oral hygiene habits play a vital role in maintaining the health and beauty of your smile. But, did you know your oral hygiene also impacts your overall health? When you do not practice proper oral hygiene, you will start to see significant changes in your overall health. In fact, some of the complications that develop have the potential to be deadly. As your dentist in Upper Arlington, Dr. Angela Courtney wants to see you maintain optimal oral and overall health with the right hygiene habits.

Your Oral and Overall Health
When you do not care for your teeth and gums by visiting the dentist twice a year, brushing twice a day, and flossing daily, bacteria begins to flourish in your mouth. Without the right oral hygiene habits, you will develop plaque and tarter buildup around the gum line. Bacteria thrives in plaque and tarter. As a result, the gums will then become infected due to the bacteria.
When the gums become infected, gum disease develops. The early stage of gum disease is known as gingivitis, which causes bleeding gums and inflammation. Gingivitis is easily treatable and reversible with prompt care. However, many do not notice the signs of gingivitis, allowing the infection to progress to the later stages of gum disease.
As the infection spreads, you will develop significant oral health complications. You may even lose your teeth. However, the complications also begin the cause havoc throughout the body. The bacteria found in gum disease can enter the bloodstream. As the bacteria circulates throughout the body, your overall health will start to decline.
Bacteria from gum disease causes inflammation in the arteries and the heart. As the blood passages become narrowed, you develop an increased risk for cardiovascular disease, including heart attack and stroke. The heart is not the only area to be impacted.
Those with untreated gum disease are likely to develop respiratory infections, including pneumonia. In addition, it was recently found that gum disease may also cause Alzheimer's disease. Gum disease will cause diabetics to experience complications while the infection also becomes worse as the body is not able to heal and fight infections.
Pregnant women also appear to be impacted by gum disease. Preliminary research shows that pregnant women with the infection are more likely to have premature births and babies with low birth rates.
With the risks of poor oral health so vast, it is essential to practice proper oral hygiene.
Promote Your Oral and Overall Health
To protect your oral and overall health, you need to have proper oral hygiene habits. You need to brush your teeth twice a day and floss daily. In addition, you need to visit your dentist twice a year for a checkup and cleaning. If gum disease develops or you are at risk for the infection, you need treatment immediately to stop the infection.
As your dentist, we want to see you maintain optimal oral and overall health. If you need a routine dental appointment or periodontal therapy, contact our office today to schedule an appointment.