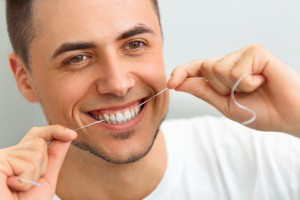 From a very young age, you have been told that you need to brush and floss your teeth each day. Unfortunately, 27 percent of people lie to their dentists about flossing each day. Flossing is one of the biggest shortcomings in oral health because many simply feel like it is a chore. In fact, 18 percent of people admit they would rather wash the dishes than floss their teeth. If you are one of the many who would rather clean the toilet or do your taxes instead of flossing, you are placing your oral health at risk. Daily flossing plays a vital role in your oral and overall health. As your dentist in Upper Arlington, we do not want you to place your oral health at risk.

Why Is Flossing Important?
All too often, people feel that if they brush their teeth twice a day, they do not need to floss. This is not true. Even those who brush their teeth properly still need to floss. A toothbrush is not able to clean between the teeth and around the gum line. If you do not use floss to clean these areas each day, plaque and tarter begin to accumulate. Bacteria loves plaque and tarter, eventually causing the gums to become infected. This infection is known as gum disease.
Gum disease is highly preventable with the right oral care. Not to mention, the early stages of gum disease, known as gingivitis, are easily treatable without causing any lasting damage. However, when left untreated, it will progress to the later stages, eventually leading to tooth loss. Gum disease does not just impact your oral health, but your overall health as well.
Gum disease is directly linked to causing serious overall health problems, such as cardiovascular disease, Alzheimer's disease, and even respiratory complications. When the infection remains untreated, bacteria enters the bloodstream, wreaking havoc throughout the body.
How Do I Floss Properly?
If you want to protect your oral and overall health from the damaging consequences of gum disease, you need to floss your teeth each day. Use about 18 inches of an ADA-approved dental floss. Insert the floss between two teeth and form a "C" shape around the tooth. Then, carefully slide the floss down to the gum line and back up to the crown of the tooth. Repeat this process for each tooth.
While there is no ideal time of day to floss your teeth, most tend to prefer to floss at night and after they have brushed their teeth. By flossing at night, you will reduce the development of harmful bacteria while you sleep.
Your Dentist for Healthy Teeth
Your home oral hygiene routine is essential to protecting your oral and overall health. In addition to brushing and flossing, you also need to visit the dentist every 6 months. You must have a dental cleaning and checkup twice a year to prevent oral health complications.
If you are in need of preventive care with your semi-annual appointment, contact our office today to schedule an appointment.