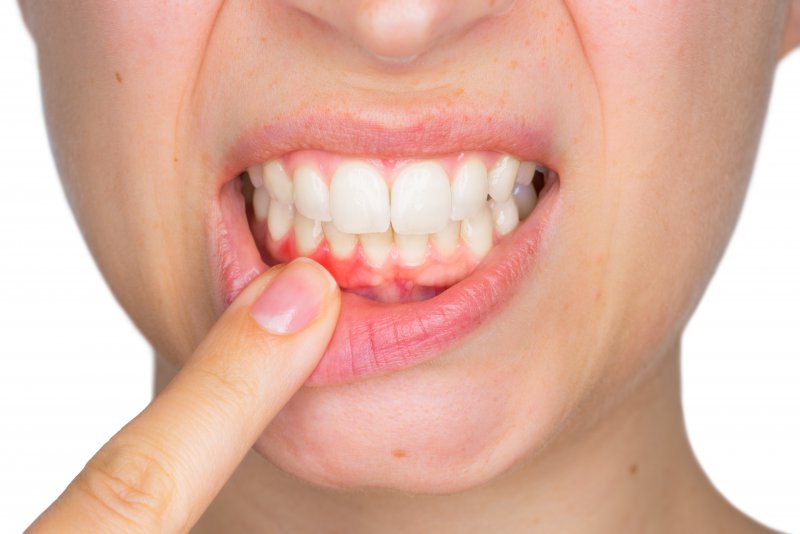 If you have gums that are tender and easily bleed, or you suffer from persistently bad breath, then there is a chance that you have some form of gum (periodontal) disease.You're not alone, though, because this is a problem that over 85% of American adults suffer from. Unfortunately, many of them don't know they have the condition. One of the ways to fight this growing epidemic is through better education, which is why your dentist in Upper Arlington weighs in with some valuable information.
What is Gum Disease?
Gum disease is the inflammation of the soft tissue that comes about when there is severe bacteria accumulation. As they gather and grow, the bacteria release acids that seep beneath the gumline and cause pockets to develop that can eventually lead to tooth loss and a host of other health problems.
The disease progresses through three phases, and if not treated, the related problems can become more severe.
Phase #1 – Gingivitis
As the initial phase of gum disease, gingivitis is the most important stage to take action in. That's because at this point, any damage suffered can still be reversed.
Here are some of the symptoms to be on the lookout for:
Redness
Puffiness
Tenderness
White spots
Frequent bleeding
By being proactive and visiting your local dentist, you can learn ways to improve your oral hygiene habits to remove unwanted bacteria. Additionally, you can receive the necessary treatment to restore your gum health to normal.
Phase #2 – Periodontitis
If the initial warning signs are ignored, the disease can advance to periodontitis. At this point, there is permanent damage done to the fibers and connecting tissues that hold your teeth in place.
The sooner you visit your dentist for treatment, though, the better your chances are of salvaging your teeth and restoring your dental wellness. At this phase, your dentist may need to perform a deep cleaning, which is a procedure to remove plaque beneath the gumline.
Phase #3 – Advanced Periodontitis
Untreated gum disease can eventually lead to a more advanced form that can cause your teeth to fall out. This is because bacteria never stop moving. Thus, if left to fester, they can dissolve the roots of your teeth, which can leave them vulnerable to falling out your mouth.
Additionally, there are serious health problems that have been found to be related to gum disease like:
Stroke
Oral cancer
Hypertension
Heart disease
Alzheimer's disease
At this point, your dentist may suggest a root planing, which is a procedure that smooths the roots of your teeth to prevent future bacteria accumulation. For more advanced issues, you may need to be referred to a periodontist for specialized care.
Prevention – The Best Form of Treatment
Taking the steps to prevent gum disease is a much easier route than treating the condition. The two most important methods of avoiding the disease are to brush and floss your teeth on a regular basis and to be sure to visit your dentist semi-annually for cleanings and examinations.
By taking these steps, you can better ensure the health of your gums for years to come.
About the Author
For over 20 years, Dr. Angela Courtney has been a fixture in the Upper Arlington area, providing the best in dental care. She earned her dental degree from the Ohio State University College of Dentistry, and she also received advanced postgraduate training from the prestigious Las Vegas Institute for Advanced Dental Studies. Dr. Courtney practices at Artistry Smile Center, and she can be reached for more information through her website.