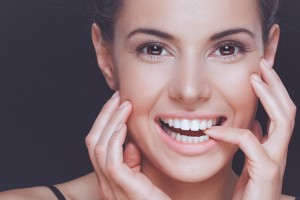 What does your smile say about you? Did you know that it's one of the first features people notice when they meet you? Are you satisfied with the appearance of your smile, or are there aspects of it you might like to change or improve? The good news is that cosmetic dentistry can help you achieve the smile of your dreams, and your cosmetic dentist in Columbus is here to help!
Teeth Whitening
One of the quickest and most cost effective ways to give your look a boost is to whiten your teeth. In-office whitening can produce immediate results for those who are short on time. You'll leave the dental office with whiter teeth after only one 45-minute appointment.
Take-home whitening systems work well for those patients who want to whiten their teeth at home and at their leisure. You'll receive custom made trays designed to protect your gum tissue from excess whitening gel. You can purchase additional whitening gel at your dental office so you can update your smile at any time.
Porcelain Veneers
Dental veneers are thin shells of porcelain designed to fit over your natural tooth structure. Veneers are great for repairing small chips, fractures, wear, gaps between teeth, stains and discoloration. A veneer can repair one tooth or enhance an entire smile. Because they're bonded directly to your tooth, veneers actually strengthen your teeth. Veneers are a great way to not only improve the appearance of your smile, but also the function.
Invisalign and Clear Correct
Do you struggle with crooked or misaligned teeth? Are you put off by the thought of having to wear bulky metal braces? Invisalign and Clear Correct are two great options for discreetly straightening your teeth with clear plastic aligners instead of traditional braces. The aligners fit snugly and are virtually invisible so no one will ever know you're straightening your teeth.
At Artistry Smile Center, Dr. Angela Courtney is an expert at creating dazzling smiles for patients with cosmetic dentistry. She's had many hours of advanced training and she understands that cosmetic dentistry requires just as much artistry as it does skill. This allows her to create beautiful smiles that also provide optimum function for patients. If you've considered enhancing the appearance of your smile, meeting with Dr. Courtney for a consultation is the first place you should start. Call our office today to schedule your appointment.