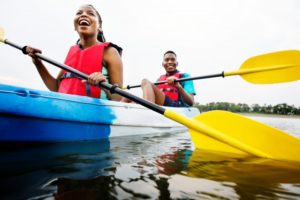 When the weather warms up and the days grow longer, it's usually a recipe for a great time. Summer is here! Most people have a list of events and activities to look forward to in the coming months which means lots of memories to make and moments to capture. Sporting a beautiful, sparkling grin can make you look and feel your best, helping you optimize your summer vacation. Read on for a few reasons why the sunny season is the perfect time to benefit from teeth whitening in Upper Arlington.
Summer Vacation
Are you traveling overseas? How about embarking on a cross-country road trip? Or visiting family in a nearby city? Whatever the case may be, you and your loved ones will want to take several photos to remember your travels. Having stained or discolored teeth may prevent you from wanting to grin at all during those moments.
Instead, get the most out of your trip and invest in a whitening treatment to give your smile the boost it deserves! After just one treatment, your teeth can be up to eight shades brighter. Rather than avoiding the cameras, you'll be beaming when it's time to pose!
Special Occasions
Graduations, weddings, backyard barbecues, family vacations – the list goes on. Many special occasions occur during the warmer months which means lots of pictures to be taken. Whether it's a selfie or a family photo, you'll want to look your best when these moments are captured.
Do you tend to shy away from the camera because you're self-conscious about your smile? Don't worry, teeth whitening treatment helps you achieve a whiter grin in no time! It's a simple, quick procedure that can eliminate even the most stubborn stains.
Turn Back the Clock
Staining and discoloration are a natural part of aging. It's normal for your smile to darken after years of regularly drinking coffee, wine, tea, or smoking. Age and genetics are other critical factors that affect the color of your teeth. Fortunately, teeth whitening can get rid of those pesky stains and take years off your smile. Sporting pearly whites will help you feel better. You'll be shining with renewed confidence!
Be sure your teeth aren't a bummer this summer – teeth whitening in Upper Arlington will make all the difference! Also, consider that a dental cleaning and exam can brighten your smile if it does not require significant whitening.
About the Author
Dr. Angela Courtney earned her dental doctorate from Ohio State University and studied extensively at the prestigious Las Vegas Institute for Advanced Dental Studies. She is a member of the American Dental Association. If you are interested in teeth whitening, Dr. Courtney offers in-office Zoom! whitening or take-home whitening kits. Schedule an appointment on her website or call (614) 451-7393.