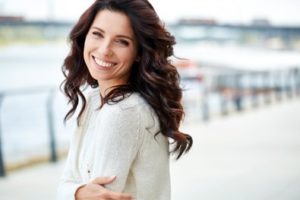 Typically, the first thing people notice about you is your smile. A white, confident smile can make you appear younger, put others at ease and even help you to look more attractive. But what are the deciding factors that make a smile beautiful? Here are 4 traits that give a smile its beauty and how your cosmetic dentist in Upper Arlington can help you achieve one.
Tooth Color
The color of your smile is one of the first elements considered when deciding whether a smile is attractive. Tooth discoloration can give the impression that you have poor oral and physical hygiene. It could also make you appear to be unhealthy. Teeth whitening is an excellent way to get a brighter smile, but you want to make sure not to over whiten your teeth. If you do, your teeth may end up looking artificial or you could actually turn your teeth light blue instead of white! Your best bet is to purchase an at-home tooth whitening kit from your cosmetic dentist, which is stronger than kits you'd purchase at your local store, or receive a ZOOM whitening treatment in the dental office.
Gaps and Alignment
A gap your teeth doesn't mean your smile isn't beautiful. For many, gaps can actually make smiles more beautiful by providing originality and character. But gaps that make teeth appear uneven can make a smile look crooked. Direct bonding is a cosmetic dental treatment that uses a composite resin to reshape teeth, minimize or close gaps and give your smile symmetry in as little as one dental visit! Another option is to get an Invisalign treatment, which can straighten your smile in 12 to 18 months.
Tooth Shape
A straight, symmetric smile is often considered to be more attractive than jagged, misshapen teeth that can be the result of genetics or overcrowding. No matter what the reason might be, it can make you feel self-conscious about your smile. There are quite a few cosmetic treatments that can correct this issue. Dental bonding is one option, but depending on the severity of your condition, veneers may be a better choice. Porcelain veneers are thin porcelain shells that are bonded to the front of your teeth. They can correct tooth shape, dental stains and fractures, giving you a flawless smile.
Gums
If you have gingivitis or any other stage of gum disease, swollen gums can give the impression that you are unhealthy. Receding gums can also make your teeth look crooked or jagged. If you have irreversible damage to your gums from gum disease, your dentist can perform gum disease therapy to help treat your infection and rid the teeth of any bacteria or hardened plaque from your teeth and below the gum line.
Your smile says a lot about you. Making the decision to brighten yours is a wonderful way to build your confidence. Beauty lies in the eye of the beholder, but with the help of cosmetic dentistry and the right dentist, you can have a smile that makes you proud to look at yourself in the mirror.
About the Practice
At the Artistry Smile Center, Drs. Angela Courtney and Christy Cox make it their mission to help their patients achieve the healthy, beautiful smiles they deserve. Dr. Courtney is a perfectionist when it comes to her dentistry. Her post-graduate education at the Las Vegas Institute for Advanced Dental Studies allowed her the ability to focus on esthetic and neuromuscular dentistry. Dr. Cox received her education from Ohio State University College of dentistry and makes it her mission to ensure her patients' needs are met. If you're ready to transform your smile, visit the website or contact the office at (614) 451-7393 to schedule a visit today.