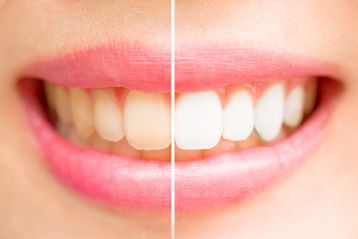 Some people think that a cosmetic dentist in upper Arlington is only good for…well, for cosmetic purposes. In reality, cosmetic dentists also treat serious oral health conditions and help their patients to enjoy better lives. If you're serious about self-improvement, then cosmetic dentistry is one of the smartest investments you can make.
What Your Cosmetic Dentist Has to Offer
Here are some of the more popular cosmetic and restorative services offered by cosmetic dentists:
Tooth whitening. Even the most beautiful smile can lose its luster over time. Thinning enamel, lifestyle factors, and medication side effects can lead to stains, discolorations, and yellowing. Teeth whitening uses effective yet gentle prescription-grade products to turn back the clock, giving you back the smile you remember.
Tooth reshaping. Sometimes the problem with our smile isn't staining so much as lack of symmetry. For example, some of your teeth may be uneven, cracked, or spaced too far apart. Your cosmetic dentist can help, either through a treatment called composite bonding or by applying dental veneers. Either way, the results can be dramatic.
Tooth restoration. Missing teeth are one of the most common and most serious oral health problems in the country. Even a single missing tooth can cause others to suffer damage and eventually be lost as well. Cosmetic dentist use a variety of approaches to restore teeth, including crowns, bridges, and implants.
Tooth alignment. Misaligned teeth are a problem for children and adults alike. Many cosmetic dentists offer modern solutions to this problem, including clear braces.
Cosmetic dentists also perform standard care services like exams and cavity fillings. If you're looking for a dental practice that can meet all of your oral health needs, then your local cosmetic dentist is well worth considering.
How to Choose a Cosmetic Dentist
Here are some factors to consider when looking for a good cosmetic dentist:
Location. It's important to consider not only the office's distance from your home or place of work but also operating hours, parking, and neighborhood characteristics. For example, some people prefer a dental practice that's close to shopping, childcare, or dining opportunities.
Services provided. Are you looking for a cosmetic dentist just for yourself or one who can treat the entire family? Do you want access to a full range of services or just the very basics?
Financial details. Does the office take your dental insurance or coverage plan? Does it offer financing or extended payment plans for cosmetic treatments? Are you comfortable with the fee structure?
Personal rapport. Do you like the dentist and the members of the staff? Do they strive to answer your questions and provide superior service? Would you recommend the practice to family and friends? How do your loved ones feel?
Choosing the right cosmetic dentist takes a little bit of time and effort. But the benefits you'll enjoy make the investment well worth your time. In time, you'll look back on your decision with plenty of reason to smile.
About the Author
Dr. Christie Cox earned her DDS degree from the Ohio State University College of Dentistry. Alongside Dr. Courtney, she strives to provide the very best care to her valued patients. You can reach her office online or by calling (614) 451-7393.