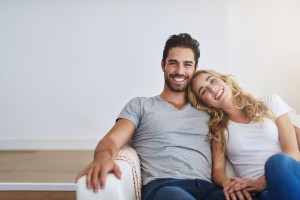 Would you take your family to a spa? You would if that spa were Artistry Smile Center where general, aesthetic and neuromuscular dentistry combines in a warm and nurturing environment perfect for patients of all ages. Your dentist in Upper Arlington,  Dr. Angela Courtney and Dr. Samuel Kiner, and their team make your experience a pleasure from the time you set foot in the door and throughout your appointment.
Treating the Whole Person
No matter your age or lifestyle, you want kind, precise and comfortable dental care. After all, we all want our smiles to look their best and to last our entire lives. What does your family dentist in Upper Arlington provide so you and your family achieve that goal? Dr. Courtney and Dr. Kiner use their advanced training and experience to deliver preventive services, along with restorations as necessary and aesthetic services that optimize your appearance.
Also, the dentists and their staff realize that many people shrink from a cold and technical dental practice. In fact, some people are even afraid of it. So, their office features patient comfort measures from DentalSpa by Oraspa. These techniques focus on your five senses, using them to relax you at the beginning and at the end of your visit.
Specifically, the team uses aromatherapy during dental cleanings so that the experience of getting plaque and tartar removed and teeth polished seems pleasurable and not just a routine chore. Additionally, RestoraSpa techniques used during restorative work, such as fillings and crowns, divert your attention from your procedures. It includes Diversional Touch Therapy which relaxes muscular tension.
Precision Dental Care for Your Family
Part of enjoying your experience at Artistry Smile Center is knowing that your dentists accurately diagnose and treat of a wide variety of oral health problems. Dr. Courtney and Dr. Kiner offer these restorative dental treatments:
Tooth-colored fillings for seamless, metal-free cavity repair
Porcelain crowns to restore injured or severely decayed teeth
Dental implants for secure and long-lasting tooth replacement
Root canal therapy to heal infection and avoid extraction
Gum disease therapy to heal gum tissue damaged by excess plaque and tartar
Crown and bridge to span smile gaps
Dentures for extensive tooth loss
Dental sealants to coat molars and stop cavities
Fluoride treatments to prevent decay
Enhancing How You Look
The shape and color of your teeth impact how much you smile. If you have dental flaws, you may not be willing to smile broadly in public. Your family dentist at Aesthetic Smile Center can work with those problems, offering state of the art cosmetic services such as:
MAC Veneers, today's premiere dental laminates which cover chips, deep stains, and gaps
Clear Correct and Invisalign clear braces, for invisible orthodontic correction
Zoom! Whitening, for safe in-office or at-home bleaching of dull, dingy tooth enamel
Cosmetic bonding, to repair small flaws such as chips, gaps and pitted enamel
Whether used singly or combined for a complete smile makeover, you or your loved one can enjoy a healthy, refreshed look that will boost your self-confidence.
What Does Your Family Need?
Reach all your oral health goals and really enjoy the experience. Bring yourself, your children and Mom and Dad, too, to Aesthetic Smile Center. Why not begin with your routine cleaning and oral exam? Contact the office today for your personal appointment.