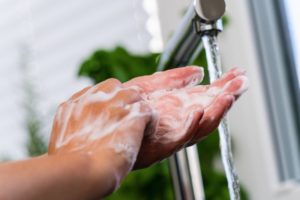 Regular handwashing has always played a key role in preventing getting sick from illnesses like the common cold or the flu. Now that we're in the midst of the COVID-19 pandemic, great hand hygiene is more important than ever. Whether you're keeping your distance while out in public or self-isolating at home, keeping your hands clean can help keep you and others safe. Use these simple but important tips from your Upper Arlington dentist to keep your hands as germ-free as possible in the COVID-19 pandemic.
5 Simple Steps to Great Handwashing
Half-hearted hand hygiene isn't enough to keep COVID-19 at bay! Washing your hands may seem like a simple enough task, but you may not be doing it properly. Make sure you clean off any lingering infected particles by following these five steps:
Wet your hands with running water.
Apply soap and wash every surface of your hands, including the back of your hands and between your fingers.
Spend several seconds cleaning your fingertips and fingernails, as well as underneath any rings, bracelets, or other jewelry.
After you've washed for 60 seconds, gently rinse off the soap with running water.
Dry your hands completely, preferably with a disposable (paper) towel.
Important Times to Wash Your Hands
Germs can collect on our hands numerous times throughout the day, which is why it's important that you always wash them:
Before preparing or eating food.
Before leaving the bathroom.
After handling animals, pet food, or garbage.
However, during the COVID-19 pandemic, you should also remember to clean your hands:
After returning from a public place like the grocery store or gas station.
Directly after sneezing, coughing, or blowing your nose.
Before touching your face, especially your mouth, nose, or eyes.
The Best Time to Use Hand Sanitizer
Did you know that health experts recommend thorough handwashing over using hand sanitizer? However, you may not be able to wash your hands on the go. When you're out in public, it's especially important that you keep your hands clean after coughing, sneezing, or touching a high-traffic fixture like a doorknob or railing. In situations where handwashing isn't available, disinfecting with a hand sanitizer that is at least 60% alcohol is a good alternative. To use it correctly, be sure to follow the printed instructions on the back of the bottle. Generally, you'll apply a small pool to the center of one hand, then rub it all over both hands for at least 20 seconds.
Hand hygiene is a key part of living a healthy life, especially now! Use these easy but effective tips to keep your hands clean and protect yourself from germs in the COVID-19 pandemic.
About the Practice
At Artistry Smile Center, we care just as much about your overall health as your beautiful smile. In these unusual times, we encourage all our patients to stay safe and healthy by practicing social distancing, regular handwashing, and excellent at-home oral hygiene. We have always followed the strict sanitation standards set forth by the CDC, but we are monitoring the COVID-19 pandemic carefully and are enhancing our infection control protocols even more. If you have any questions or concerns, we can be reached via our website or at (614) 451-7393.