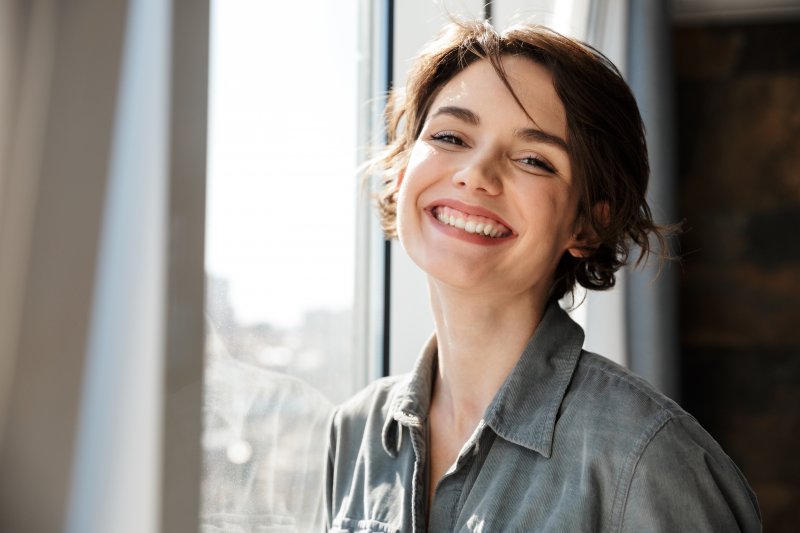 A beautiful smile goes beyond looks, impacting confidence, happiness, and perceived attractiveness, fostering connections and meaningful relationships. For those aspiring to possess such a smile, cosmetic dentistry plays a crucial role. If you are considering undergoing one or more cosmetic dental treatments, continue reading to explore the essential traits that contribute to a beautiful smile and its impact on your life.
Trait #1: Bright, White Teeth
A radiant, white smile is often desired as a symbol of excellent oral health. Yet, tooth discoloration may occur due to factors like consuming specific foods and drinks, smoking, and certain medications. These elements can stain the enamel, leading to a less appealing yellow appearance.
Ensure a vibrant smile by maintaining a dental routine—brush your teeth twice daily for two minutes, floss nightly, and schedule regular cleanings and checkups with your dentist. Those seeking to boost their smile's brilliance can consider professional whitening or explore alternatives like cosmetic dental bonding, porcelain veneers, and metal-free dental crowns, each providing effective whitening solutions.
Bonding uses resin to hide discoloration, whereas veneers offer a durable albeit more expensive option for concealing stains. Crowns, serving as protective caps, address significant damage and occasional staining.
Trait #2: No Chips or Cracks
Damaged teeth can lead to smiles that appear unhealthy. Dental bonding, porcelain veneers, and dental crowns provide effective solutions to restore both the shape and color of your teeth. These procedures can effectively conceal damage, therefore rejuvenating your beam and leaving it looking revitalized.
Trait #3: An Even Smile Arc
The smile arc is the curve created by the upper teeth meeting the lower lip. A visually pleasing smile arc is usually slightly upward and narrow at the ends, playing a significant role in enhancing a beautiful smile.
If your smile arc lacks the definition you desire, orthodontic interventions may provide potential solutions. Consult with your orthodontist to explore available options and gain insights into improving your smile arc.
Trait #4: A Healthy Gum Color
Healthy gums typically display a firm and pink appearance, with no bleeding during brushing or flossing. If your gums seem swollen, red, or bleed easily, consult a dentist. They will be able to investigate potential gum disease.
Gum disease, often caused by poor oral hygiene, is a serious infection that can damage your smile. If you notice symptoms, schedule a prompt appointment with your dentist for periodontal treatment to prevent further damage.
Trait #5: Evenly Spaced Teeth
Gaps between teeth not only affect your smile's aesthetics but also make effective cleaning challenging, increasing the risk of cavities. Invisalign uses transparent aligners to gently adjust tooth alignment, and methods like dental crowns, bonding, and porcelain veneers effectively enhance the smile by closing small gaps.
Attain a vibrant, healthy smile with personalized dental solutions. Consult your dentist to explore options and embark on enhancing the functionality and beauty of your smile!
About the Practice
Drs. Angela Courtney and Christy Cox lead the Artistry Smile Center team from their welcoming Columbus dental office. The skilled team is dedicated to creating a radiant smile for you, offering a variety of cosmetic services. With their help, you'll have a smile that you love before you know it! Contact Artistry Smile Center's office at (614) 451-7393 or visit their website if you want to schedule an appointment or to learn more about their services.