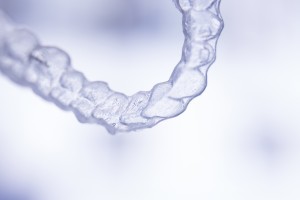 When it comes to orthodontic treatment to straighten the teeth, many picture metal wires and brackets having to be worn for the next several years. Due to the appearance, restrictions, and discomfort of braces, many tend to delay orthodontic care. Now, you do not have to put your straight smile on hold. Invisalign offers an alternative to traditional braces with added benefits. With Invisalign in Upper Arlington, you can get a straight smile using a less noticeable, more comfortable, and more convenient treatment. As a cosmetic dentist in Upper Arlington, Dr. Angela Courtney will help you decide if Invisalign is right for you.

Invisalign vs. Traditional Braces
Traditional braces have held a common place in orthodontics for decades because they are affordable and effective. Metal wires and brackets are attached to the teeth to pull the teeth into their correct positions. This is effective for treating even the most severe of alignment and bite cases. While metal braces are effective, they are very noticeable, despite recent advancements.
In addition, metal braces tend to be uncomfortable and cause irritation. Throughout the entire treatment, you will have restrictions on what you can eat. Plus, oral hygiene is a challenge and you will require frequent trips to the dentist.
Invisalign resolves all the headaches and hassles of traditional braces. Invisalign does not use wires or brackets. Instead, custom-made aligner trays are worn over the teeth to gradually move your teeth into their correct positions. Your clear, removable trays are created in a series. You will wear the trays for 22 hours per day with each tray in the series worn for about two weeks. On average, it will take about a year to complete treatment. During your treatment, you will enjoy added convenience as less trips to the dentist are required.
Since no wires or brackets are used, you will have a nearly undetectable treatment. In addition, you will enjoy added comfort as there is no tugging, pulling, or rubbing of wires. Since the trays are removable, oral hygiene is simple and you will enjoy a restriction-free treatment.
Is Invisalign Right for Me?
Invisalign is highly effective for treating an array of alignment issues, such as gaps, overcrowding, and bite issues. When used on the ideal candidate, you will straighten your smile while enjoying the same high-quality results as traditional braces. While Invisalign is effective, it cannot be used on everyone. If you have large gaps, severely rotated or tipped teeth, or certain bite complications, Invisalign may not be right for you. You will need a consultation with Dr. Courtney to determine if you are a candidate for Invisalign.
As a cosmetic dentist, Dr. Courtney will help you achieve the straight, attractive smile you have always wanted with Invisalign. If you are a candidate for Invisalign, she will create a customized treatment plan to align your teeth.
If you are ready to get the straight smile you have always wanted, it is time to contact Dr. Courtney to schedule your consultation for a straight smile.