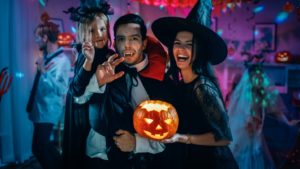 With Halloween right around the corner, it's hard to not be excited about this time of the year! But amidst all of your fun, it might be easy to accidentally forget about taking care of your pearly whites—and this can easily lead to your smile looking scary, regardless of your Halloween costume! Fortunately, there are many things you can do to keep your teeth looking their best this spooky season. Here are four tips from your dentist in Upper Arlington to help you out.
Tip #1. Have Your Candy with Dinner
Believe it or not, your mouth's saliva is actually your first line of defense against cavity-causing bacteria! It washes away excess food particles and some of the harmful acids produced by things like Halloween candy. And your mouth's production of saliva drastically increases when you're eating, meaning that it's beneficial to eat candy with dinner rather than on its own. Not to mention, eating candy with or directly following a meal also limits the amount of time the sugar has contact with your teeth.
Tip #2. Consume a Healthy Diet
It also helps to stick to a healthy and well-balanced diet. This will help you reduce your intake of sugary and starchy items. Consider healthier alternatives such as crisp fruits and vegetables, leafy greens, lean proteins, and low-fat dairy products. Fueling up on healthy foods can help you feel fuller more quickly before you have the chance to fill up on candy! You should also drink plenty of water daily—water is the best beverage for your body, including your mouth!
Tip #3. Be Picky About Your Candy
Hard candies like lollipops or jawbreakers that stay in your mouth for extended periods of time are actually some of the worst candies for your teeth! Not only do they expose them to sugar for longer—they're also more likely to chip or fracture them if you aren't careful! Meanwhile, sour candies are often quite acidic and harmful for your enamel. However, chocolate candies are much better for your teeth; chocolate washes off easier than most types of candy, and dark chocolate is even better because it has less sugar!
Tip #4. Maintain Excellent Oral Health
It's easy to get swept up in the excitement of Halloween, and you could easily become too distracted to properly maintain your oral health. But you should take steps to ensure that you're maintaining a proper hygiene routine. Brushing twice a day for two minutes with a soft-bristled toothbrush, flossing, and rinsing with an antibacterial mouth wash can all actively mitigate several nasty issues that'll spoil your Halloween fun! Of course, visiting your dentist twice a year can also ensure that your smile doesn't look scary at all.
This Halloween, put your oral health first! These tips will protect your smile and make sure that it looks its best for all of your spooky festivities.
About the Author
Dr. Angela Courtney received her dental doctorate from The Ohio State University College of Dentistry and maintains active membership in several professional organizations including the American Dental Association, the Ohio Dental Association, and the Columbus Dental Society. Her practice is pleased to offer a wide range of services including preventive, cosmetic, and restorative options. If you have any questions about how to care for your smile or you'd like to arrange a visit, you can contact Dr. Courtney through her practice's website or over the phone for assistance: (614) 451-7393.