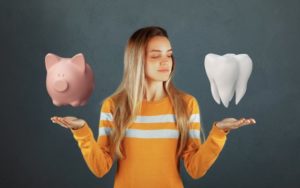 There's no doubt about it—visiting the dentist always results in good things for your teeth! Whether you're there for preventive, cosmetic, or restorative treatment, your dentist in Columbus is the best option for ensuring optimal oral health and a smile that looks great. That said, your smile isn't the only thing that'll benefit from routine dental care; it'll actually do your wallet a large favor in the long run! Here are three ways how visiting your dentist regularly can ultimately save you a lot of money.
1. Detects Oral Health Issues Early
To put it simply, routine dental visits play a vital role in preventing serious problems from developing further. Without the intervention of your dentist, issues like tooth decay, cavities, gum disease, and more can quickly escalate and lead to total tooth loss, as well as issues that threaten your overall health such as oral cancer! Not only that, but these issues are also quite expensive to treat compared to the cost of things like fillings, teeth cleanings, and other types of preventive care. Visiting your dentist biannually will mitigate several of these issues while also preventing giant spikes in your monthly budget due to unexpected dental costs!
2. Prevents Teeth Staining
Regular dental visits don't just prevent serious oral health issues—they also prevent aesthetic ones such as tooth discoloration! Every time you visit your dentist for a cleaning, they wrap up your appointment by applying a special substance called prophylaxis paste to your teeth. This nifty, gritty material breaks apart surface blemishes caused by things with staining agents like coffee, soda, and wine. This helps you to dodge the added cost of receiving cosmetic treatment in the future to enhance the brightness of your smile. The cost of repeated teeth whitening treatments can quickly add up over the years, and these procedures aren't usually covered by insurance!
3. Utilizes Dental Insurance Benefits
If you have dental insurance, you should know that the cost of preventive dental care is covered by most plans. However, it's also important to note that your benefits are likely set to expire at the end of the calendar year (until your plan is renewed). Any unused benefits won't roll over, meaning that you should take full advantage of your plan and schedule those visits—you've already paid for and committed to them through your insurance plan, after all! Your dentist and their team can also work with you to ensure that you're fully maximizing your benefits based on your plan.
If you think it might be cheaper to skip your biannual dental checkups, think again! These visits are an incredibly cost-effective way to protect your smile and your bank account!
About the Author
Dr. Angela Courtney has proudly served patients and families in the Upper Arlington area for several years. Dr. Courtney received her dental doctorate from The Ohio State University College of Dentistry and is an active member of the renowned American Dental Association. Her practice is pleased to offer a wide range of services including preventive, cosmetic, and restorative options. To schedule a visit, please contact the practice online or over the phone for assistance: (614) 451-7393.