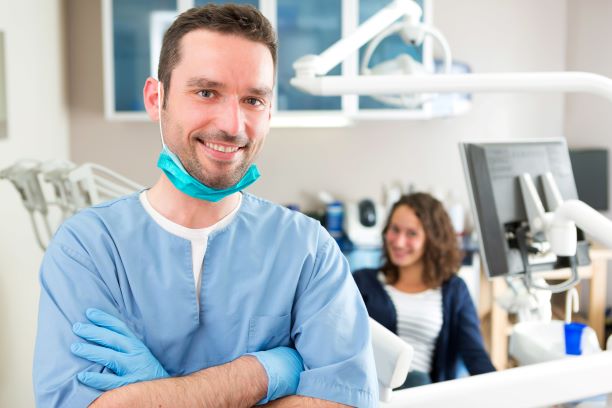 Want to go through 2019 with a smile on your face? A great way to start is by brushing 2-3 times a day, flossing at least once daily, eating a nutritious, sensible diet, and seeing your dentist in upper Arlington for regular cleanings and exams. Taking these steps will lay the foundation for healthy teeth and gums all year long.
Why Nothing Beats Brushing and Flossing
All of us know the importance of keeping a tidy home. After all, who wants to live in a dirty, unsanitary environment? But cleaning your teeth is just as important. Here's why:
Germs don't just attack you on the outside. Inside your mouth there is a war raging right now between your teeth and cavity-causing bacteria.
No one can remove these malicious microorganisms from your mouth permanently. But brushing does help to keep them under control.
Brushing by itself can never eliminate all the food particles in your mouth, however. Flossing is an important follow-up step.
It's important to use products with the ADA seal of acceptance on the packaging. Most dentists recommend soft bristle toothbrushes for their patients.
Eat with Your Teeth in Mind
What you put on your plate is just as important as what you leave off of it. Healthy teeth and gums require plenty of lean protein, calcium, vitamins, fiber, and healthy monounsaturated and polyunsaturated fats.
It's crucial to avoid sugars and simple starches. If you must indulge your sweet tooth, then try snacking on a piece of fresh fruit, which contains plenty of the nutrients your body needs to be at its best.
Why Your Dentist Should Be a Regular Part of Your Life
Seeing your dentist only when you have a toothache is like wearing your seatbelt only during an accident; it's too late to prevent the problem from occurring. It takes regular preventative dental care to remove plaque and tartar that brushing and flossing leave behind. A good rule of thumb is to see your dentist twice a year for a cleaning and exam.
Other Tips for Enjoying Healthy Teeth and Gums
Brushing, flossing, eating right, and seeing your dentist are essential for all of us. But doing the most good for your dental health means following these added tips as well:
Stay away from tobacco and vaping products. Not only do they promote tooth decay, they put you at greater risk for cancer, heart disease, and other serious conditions.
Exercise. Physical activity is not only good for your heart and lungs, it helps your body to take better care of itself, including your teeth and gums.
Chill out. Excess stress can impair your body's ability to fight cavity-causing germs.
Drink alcohol only in moderation (if at all.) Alcoholic beverages contain corrosives that can erode the enamel on your teeth, making them more vulnerable to cavities. Alcohol also inhibits your body's ability to absorb essential nutrients from your diet, contributing to dental problems.
2019 is up and running. Stay on top of your self-improvement resolutions by following the tips in this post. That way, you can keep a smile on your face all year long.
About the Author
For Dr. Angela Courtney, earning her DDS degree from the Ohio State University College of Dentistry was only the beginning of her educational journey. She went on to completed specialized training at the Las Vegas Institute for Advanced Dental Studies as well. Her comprehensive training and experience makes her the perfect choice for a trusted Columbus dentist. You can reach her office online or by calling (614) 451-7393.