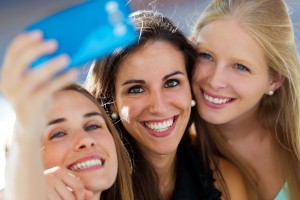 When you think of summertime, you think of waves of water splashing against your toes at the beach and the sun shining brightly on you—sometimes too much! Most prevalent may be the memories that come from these warm months and the great photos that are posted all over social media with your friends and family. But, you're usually the person that avoids taking pictures because of your discolored teeth. Don't hold back the fun this year-round! Get teeth whitening in Upper Arlington from Dr. Angela Courtney at Artistry Smile Center. We'd be happy to help you achieve the smile you're proud to show off in photos.
What causes my teeth to stain in the first place?
Many patients go to extensive lengths at home to try to keep their teeth white, but sometimes stains and discoloration are inevitable. Some are more noticeable than others. Many factors can play a part in this unfortunate scenario—from the food and drinks we consume to bad habits like indulging in tobacco products that drastically yellow teeth. The food and drinks you consume can also be a reason for your teeth discoloration. Bad beverages for staining include coffee, soda, tea, wine and many others. Your lifestyle habits are also a factor especially if you haven't quit that nasty cigarette or "chewing" habit, the chemicals in tobacco products can cause stubborn stains on your teeth. Poor oral hygiene and inadequate cleaning can also result in teeth discoloration.
What whitening options are available at Artistry Smile Center?
In-Office Teeth Whitening
If you choose to whiten your teeth at our dental office, we'll use the Zoom! teeth whitening system—a safely monitored, concentrated bleaching product. While you rest comfortably, we apply Zoom! bleaching gel to teeth and activate it with a special light. Both the gel and light work to lift deep stains and discolorations from the layers of your teeth. Stains disappear, without impacting natural tooth structure or harming your soft tissues with our help.
At-Home Teeth Whitening
Many patients prefer to transform their smiles in the comfort of their own home and that's totally fine! We take an impression of your smile to create custom-fitted bleaching trays and give you a supply of professional-strength teeth whitening solutions. The custom fit of the trays ensures that the bleaching solution covers the entire surface of teeth without leaking. We'll instruct you on how to use the trays. Just follow our simple directions and you'll be stunned with the results you can achieve in just a couple weeks!
What are the advantages of professional teeth whitening?
Compared to the teeth whitening kits that can be bought over-the-counter, the professional whitening system provides immediate results. Whereas with the other methods, you will have to wait for about a month before you can actually see the difference.
Professional teeth whitening can address stubborn stains that over-the-counter whitening systems cannot do. In professional teeth whitening, stronger agents are being used that are effective in handling severe cases of teeth discoloration.
Cheap teeth whitening systems at drug stores can increase your teeth sensitivity because they can be applied incorrectly if you do it on your own. It can be dangerous if it comes in contact with your soft tissues and gums. Your dentist will be the best person who can professionally perform the procedure for you.
If you need teeth whitening treatment, visit Dr. Courtney, your dentist in Upper Arlington. Contact our office and we will be happy to schedule an appointment right away!