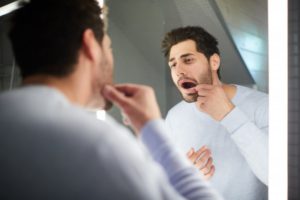 When you first got a dental crown, you probably felt like it was invincible. After all, crowns can't get cavities like your natural teeth can. As durable as this type of restoration is, though, it was not designed to be permanent. Most dental crowns last between five and 15 years, but bad habits like smoking and teeth grinding can shorten its lifespan. If you're not sure when you should talk to your dentist in Upper Arlington about dental crown replacement, here are five signs to look out for.
Your Bite Feels Uneven
Each dental crown is custom-made to blend in seamlessly with the adjacent teeth. If your crown starts to feel taller or shorter than the teeth around it, there's a chance it could be loose. To remedy this problem, your dentist might need to adjust the crown's fit or even replace it entirely.
Your Crowned Tooth Is Hurting or Sensitive
Modern-day dental crowns are typically made from tooth-colored porcelain, which is not quite as durable as metal. As a result, everyday wear and tear or chronic teeth grinding can gradually damage its surface. Even a small crack in the crown can expose the underlying tooth and lead to painful sensitivity. Call your dentist if you experience aching or swelling in that area.
The Gums Near Your Crown Are Receding
When gum tissue pulls back from a tooth, pockets form between the tooth and gums. Bacteria could accumulate in these pockets and infect your mouth. If your gums look short (or your tooth looks long), your crown may not have been placed correctly. It could also indicate gum disease. In either case, you should promptly contact your dentist.
You Notice Visible Damage
Some crowns are made primarily of metal, but have a layer of porcelain on the outside to give them a lifelike appearance. Over time, porcelain-fused-to-metal crowns can develop a dark line along the base of the tooth due to the porcelain fading, allowing the metal to shine through. Even all-porcelain crowns can sustain chips or cracks. After examining your mouth, your dentist can let you know whether the crown can be repaired or if it should be replaced.
Your Crown Is More Than 10 Years Old
Just because your crown looks and feels fine doesn't mean everything is fine. If it has been more than a decade since you received your crown, it most likely needs to be replaced. At the very least, ask your dentist to take a look.
While good oral hygiene can help your crown last up to 15 years, it's not permanent. By keeping up with your routine dental checkups, your dentist can ensure your crown stays in good shape and stop potential issues in their tracks.
About the Author
As a dentist in Upper Arlington, OH, Dr. Angela Courtney is dedicated to providing her patients with relaxing, top-notch dental care. She earned her Doctor of Dental Surgery degree from The Ohio State University College of Dentistry and has taken extensive post-graduate courses at the world-renowned Las Vegas Institute for Advanced Dental Studies. She partners with only the best local dental labs to provide porcelain, ceramic, and porcelain-fused-to-metal crowns. If you're wondering whether you need dental crown replacement, contact Dr. Courtney's dental office at (614) 451-7393 or visit her website to schedule your appointment today.