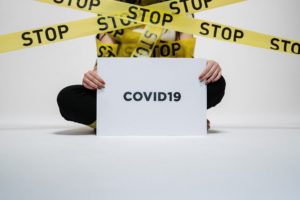 Amid the COVID-19 pandemic, the cleanliness of anywhere outside of the home is a big concern for many Americans. Although dental offices are already pretty clean, it's normal to have a few questions before you're ready to see your dentist in Upper Arlington again; however, you don't have any reason to worry. Your dentist is going the extra mile to provide a clean and sterile environment for patients. They are doing more than just spraying a disinfectant. Here are 6 ways your dentist is keeping their patients safe.
1. Routine Cleaning & Disinfecting Procedures
Your dental team has revamped its cleaning procedures to remove harmful pathogens from the office. To accommodate more rigorous cleaning, they are scheduling fewer patients each day. This allows them to thoroughly clean the facility in between patients. An EPA-registered, hospital-grade disinfectant will be used to clean areas that are frequently touched to prevent cross-contamination both during and after your appointment.
2. Dedicated Medical Equipment
Your dental team will use dedicated medical equipment for each patient. If devoted medical equipment isn't possible because it's non-disposable, it will be thoroughly cleaned and disinfected according to the manufacturer's protocols.
3. Personal Protective Appointment
Besides cleaning and disinfecting, the use of personal protective equipment is equally essential to prevent the spread of COVID-19. Your dentist will utilize masks, gloves, face shields, and disposable clothing to create a protective barrier between you and your dental professional. All non-reusable equipment will be disposed of properly to reduce harmful pathogens in the office.
4. CDC-Approved Sterilization
Moist heat is used to saturate dental equipment and instruments in steam. It uses rapid heat pressure for sterilization to kill microorganisms. This is a simple yet effective measure your dentist takes to ensure patient safety.
5. Leaving Work Clothes at Work
Research shows healthcare professionals can transmit harmful pathogens via their clothing. As a result, your dental team won't wear their scrubs outside the office to run errands or grab lunch anymore. Instead, they will leave their work clothes at work to reduce cross-contamination.
6. Safety Champion
Your dentist and their staff have completed advanced training in preparedness and awareness to combat the spread of coronavirus. As a safety champion, they will greet patients and ensure the proper protocols are being followed to prevent illnesses.
A Higher Standard of Clean
If you've been waiting to see your dentist because of COVID-19, there's no reason to be concerned. Your dentist has revamped their safety protocols to prevent the spread of coronavirus.
About Dr. Angela Courtney
Dr. Angela Courtney completed post-graduate education at the prestigious Las Vegas Institute for Advanced Dental Studies. She's committed to creating healthy, beautiful smiles using the latest solutions in dentistry. She remains current in the latest treatments, procedures, and protocols, including those related to the COVID-19 pandemic. If you have any questions about our safety standards, or you'd like to schedule an appointment, contact our office today to speak with a member of our team.