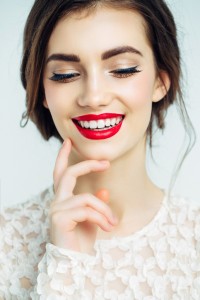 You need to be out the door quick every morning, and that's especially true during the holidays. Everyone else may be slowing down for the end of the year, but your goal is to have nothing left over for 2017. It'd be nice to have one less thing to think about in the morning while getting ready. Your cosmetic dentist in Upper Arlington can help, as they can make sure your smile looks spectacular every day when you walk out the door.
Why Would I Want Cosmetic Dentistry?
Your teeth might be perfectly healthy, but that doesn't mean you like how they look. They may be discolored or chipped, or perhaps you have metal fillings that stick out whenever you talk or laugh. You'd be so much happier with just a few subtle changes, and that is where cosmetic dentistry can help. Its entire focus is to make you feel better about your smile, which can significantly boost your confidence. Dr. Angela Courtney and Dr. Samuel Kiner  know a beautiful smile can do a lot for a person, and they have a variety of ways to help you get one.
Teeth-Whitening
A simple fact is that people like white teeth. However, keeping them white over time can be difficult. Factors such as coffee, wine, tobacco, diet, and even genetics can leave your teeth looking dull and discolored.
Zoom! Whitening is the easiest way to eliminate stains and improve the color of your smile. In one short visit, it can make your teeth look 6-10 shades whiter. We simply apply a highly-concentrated bleaching gel to your teeth and activate it using a specialized light. Our in-office treatment is ideal for a person who wants a dramatic result very fast.
Of course, if you have a little more time, we can provide you with a custom-made take-home kit. Our kits are made just for you, and use much higher quality products than kits you can pick up from the store. You simply use the kit as directed for 2 weeks to get the full result. This can be a full treatment itself, or be used to touch-up your in-office treatment to keep your smile white for years.
Cosmetic Bonding
One of the quickest and easiest ways to repair a variety of small imperfections is with cosmetic bonding. A custom-shaded composite resin will be applied to your teeth and molded to improve their shape, size, color, and alignment. The resin is then instantly hardened using a UV light. You can have the entire procedure done in about an hour, and the results can last for years with regular brushing and flossing.
Porcelain Veneers
Do you have broken, discolored, or misaligned teeth? How about large, obvious gaps? You may have all of them, and separate procedures to fix each problem would be both expensive and time consuming.
A much simpler option is to get porcelain veneers. They are able to fix and mask all of these cosmetic issues with one procedure. They are custom-designed ceramic coverings that are fitted to the front of your teeth, and you can get them in as little as two visits. They are their own complete smile makeover, and can give you everything from a subtle to a dramatic result.
Invisalign/ClearCorrect
Want to straighten your teeth but can't deal with the look and discomfort of metal braces? Invisalign and ClearCorrect can give you the best of everything when it comes to appearance, effectiveness, and comfort. They both use clear plastic aligner trays to gently and gradually straighten your teeth over time. Only you will notice that you are wearing the aligners because they are nearly invisible. They are also easily removable, so you can eat and clean your teeth just like you always have. You get all of the benefits of braces without any of the drawbacks.
Any Questions?
Most of these treatments can be completed in one or two easy visits, so what are you waiting for? Come get the smile you've always wanted and feel more confident this holiday season. Make an appointment with your dentist in Upper Arlington today.
Want to know what else we can do for your smile? E-mail or call us today.