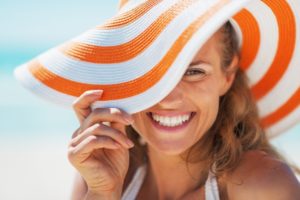 Summertime is a time of refreshment and sunshine. The warm months give you the opportunity to go on vacation with your friends and family and make some special memories! While caring for your smile may be the last thing on your mind as you are preparing for your trip, you will certainly be using it a lot as you enjoy your summer. Here are three reasons to visit your dentist before going on your summer vacation.
#1. You'll Prevent Dental Emergencies
You count on laughs and adventures during a vacation but not a dental emergency like a severe toothache or lost filling. By taking the time to visit your dentist before you leave for your trip, they can help treat any underlying issues that could possibly put you at risk of an unexpected dental event. If you have any tooth decay, cavities, or infections, your dental team can provide any necessary treatments, so you won't have to be blindsided by any unexpected dental issue. Your healthy smile will be ready for your upcoming fun!
#2. You'll Have Plenty of Time to Start Complex Procedures
Caring for your oral health sometimes requires longer than usual appointments or multiple visits to your dentist. By beginning your procedures or treatments before the hustle and bustle of the summer, you will give yourself plenty of time to heal and get your oral health on track for the rest of the season. Whether you need restorative care or even a cosmetic dental treatment, summertime offers a wonderful opportunity to make your oral health a top priority.
#3. You Can Focus on Improving Your Dental Health
Taking the time to attend your biannual checkups and cleanings or get an underlying dental issue treated before summer vacation gives you the opportunity to focus on your smile. The busyness of everyday life can keep you from doing the necessary things to keep your oral health in check. By visiting your dentist before summer vacation, they can give you advice and guidance on how to improve the health of your teeth and gums. Your visit can provide you with renewed energy to give your smile the care it deserves. By being consistent with brushing twice a day and flossing daily, your grin will be picture-perfect for all your summertime memories!
By taking the time to visit your dentist before your summer vacation, you can get ahead of any issues before they become more serious and prevent any unexpected issues. Additionally, your smile can get the treatment it needs to shine bright on your vacation!
About the Practice
Artistry Smile Center is eager to help you keep your oral health in top condition all throughout the year through its two dentists. They offer a comprehensive range of services, including preventive, restorative, cosmetic, and emergency care. With a holistic approach focused on your overall well-being, they use advanced dental technology and personalized plans to keep your teeth and gums in top condition. To schedule an appointment, contact them through their website or call (614) 451-7393.