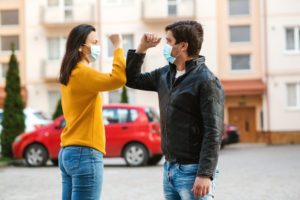 You can't have a conversation these days without someone saying the words "social distancing." After all, it is one of the main ways to prevent the spread of the coronavirus. But is it possible to maintain six feet of distance between people when you visit the dentist? Believe it or not, it is! Your dentist's office is one the safest places you could be, even during a pandemic. Keep reading to learn more about how your dentist in Upper Arlington implements social distancing in their office.
Virtual Appointments
Did you know that teledentistry is becoming more and more popular? In fact, according to a recent study, more than 70% of patients would prefer seeing their doctor or dentist over a video call than in person unless face-to-face contact is absolutely necessary.
For many appointments, such as consultations for certain procedures, it's perfectly possible for your dentist to see you over the phone and still deliver the care you need. You can save time and money by not commuting or sitting in a waiting room.
Waiting in the Car
Speaking of waiting rooms, they are pretty much a thing of the past due to COVID-19. Instead of waiting inside the office, you'll be asked to wait in your car until the dentist is ready to see you.
While some dentists still have waiting rooms, they have made some changes in light of the pandemic. There are fewer chairs, and they are all spaced out to allow for proper social distancing. Magazines and toys will have been removed since they are objects that people frequently touch and thus can easily harbor and transfer the virus.
Spaced-Out Scheduling
Even though your dentist is back open, they're not treating as many patients in a day as they used to. Instead, appointments are more spaced-out and longer, allowing for more procedures to be completed in a single visit. This also reduces the number of people in the office at the same time, lowering the risk of infection.
Even when a pandemic isn't going on, your dentist's office is an incredibly safe place to be, thanks to their strict health and safety protocols, which have only increased since the COVID-19 outbreak began. Rest assured that when you're visiting your dentist in Upper Arlington, you're in good hands.
About the Author
Dr. Angela Courtney is a 1996 graduate of the University of Ohio College of Dentistry. She has also completed extensive post-graduate training at the prestigious Las Vegas Institute for Advanced Dental Studies. You can trust that when you visit her practice in Columbus, OH for an appointment, that Dr. Courtney will take good care of you. For more information on their safety protocols, you can contact the practice via their website or by calling (614) 451-7393.