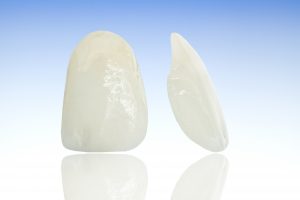 Did you know that makeup artists in Hollywood used the first dental veneers almost 100 years ago? They found they could easily cover a wide variety of flaws and give film stars a more even, beautiful smile. Thankfully, in this day and age, veneers aren't only used for celebrities! No matter who you are and whether you have chips, cracks, stains or gaps, porcelain veneers in Upper Arlington can give your smile a whole new appearance. The best part is, they can be done in two appointments! Keep reading to learn more about how porcelain veneers can benefit you and what to expect from the procedure.
What Are the Advantages of Porcelain Veneers?
Veneers are wafer-thin restorations that are adhered to the front of the teeth. They can be made from a variety of materials, such as composite resin (similar to the material used for tooth-colored fillings) or porcelain.
Porcelain is not only a strong, durable and beautiful option, but it's also the thinnest, so more of your natural tooth structure will remain intact.
And those aren't the only advantages of porcelain. You'll be happy to know that it's also stain-resistant, so your coffee or tea habit won't discolor your new veneers.
Also, porcelain reflects the light more like natural teeth do, so the final result looks very natural. No one will be able to tell you've had dental work done and you'll still look like you – only improved!
How Are Porcelain Veneers Made?
As we mentioned earlier, one of the best things about veneers is that they can be done in two visits! After an initial consultation with a cosmetic dentist in Upper Arlington, your appointments will be spaced about two weeks apart. Here's what you can expect:
Before starting, you'll be numbed so that you're comfortable throughout the procedure.
A very small amount of enamel will be removed from your teeth so they can accommodate the veneer.
Impressions will be taken and sent to a lab, where they'll be used to custom-make your veneers. The size, shape and color will be precisely matched so that they perfectly complement your smile. In fact, you'll be able to see what the final result will look like beforehand so you can make sure it's exactly what you want.
Then temporary veneers will be placed on your teeth while you wait for your permanent ones to be made.
Finally, you'll return for the last step. Your veneers will be cemented into place and any minor adjustments will be made so that they look and feel great!
Porcelain veneers are a wonderful way to achieve the smile you've always wanted. After all, who says "Hollywood smiles" are only for Hollywood stars?
About the Author
Having seen how porcelain veneers can enhance their patient's self-confidence and overall quality of life, Dr. Angela Courtney and Dr. Christy Cox have used them to transform countless smiles over the years. With an artistic eye for detail, they deliver beautiful, natural-looking cosmetic results. If you have any questions, they can be reached via their website or at (614) 451-7393.