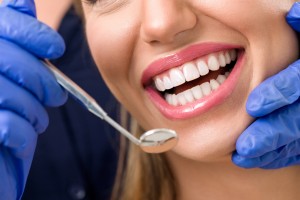 Your dentist in Upper Arlington, Dr. Angela Courtney and Dr. Samuel Kiner, recommend you have a dental exam and professional cleaning twice a year. Isn't your at-home brushing and flossing enough? Find out why the friendly team at Artistry Smile Center wants to see you and yours regularly.
Dental Visits Prevent Problems
Even people with excellent dental health need semi-annual exams and cleanings. In fact, those preventive services play a big part in why their teeth and gums are so healthy.  Frankly, patients who diligently brush and floss still miss plaque and tartar hidden at the gum line and in between teeth. This "biofilm" contains oral bacteria which secrete acids that corrode tooth enamel, causing decay. The same bacteria causes an infection in tender gums, loosening their attachment to tooth and root surfaces. Gum disease results, leading to:
Gum and bone deterioration
Bad breath, or halitosis
Tooth mobility and tooth loss
Systemic health problems such as Type-2 diabetes, heart disease, high blood pressure, stroke, dementia, arthritis and more
What Does A Six-Month Exam Look Like?
Here's where your dentist plays an important role. Every six months, Dr. Courtney or Dr. Kiner examine their patients–from children as young as three years to senior adults– for:
Signs of gum disease (periodontal probing for gum pocket depth)
Tooth decay
Condition of fillings, crowns, implants and other restorations
Proper bite and jaw joint function
Oral cancer
This last assessment is so important. Oral cancer is quiet and deadly, killing more than 8,600 people annually in the US alone. Early detection and treatment contribute to high cure rates. So, your dentist carefully inspects for signs of cancer on  the lips, tongue, cheeks, gums and hard palate of every patient. This check is particularly important for people who smoke or use alcohol to excess.
Additionally, your dentist believes that the condition of the mouth tells them a lot about overall health. Signs of diabetes or infection often show in the mouth before they are obvious in other parts of the body. So, preventive dentistry services are your best early warning system.
Finally, your dentist presents his or her findings, performs digital X-rays if needed, and formulates a treatment plan to outline any restorative needs. Dr. Kiner and Dr. Courtney address the cosmetic goals of their patients with services such as professional teeth whitening, composite resin bonding, porcelain veneers, ClearCorrect and more.
What Happens During A Cleaning?
Your skilled hygienist carefully scales tooth surfaces, interdental spaces and the gum line, removing plaque and tartar. Also, she polishes your teeth to a smooth, bright finish. She addresses questions and concerns about flossing and brushing; this a great learning opportunity for both adults and children!
More Often Is Better
Two check-ups and cleanings a year can equal better oral health and fewer complex treatments. If you haven't had your semi-annual exam this year, why not contact Artistry Smile Center now to arrange an appointment?