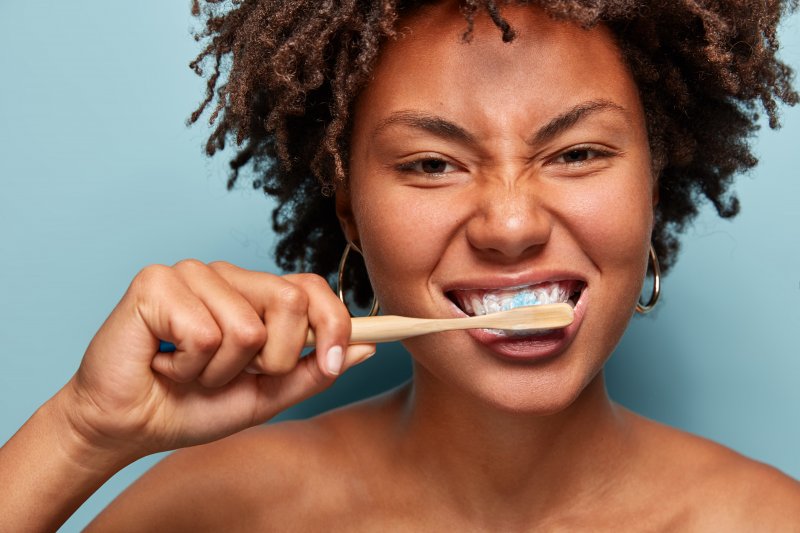 When you brush your teeth, you might think doing a "better" job means using more force. After all, doesn't forceful brushing eliminate more plaque, bacteria, and leftover food from your mouth? If nothing else, it seems like a natural conclusion to reach. However, your dentist in Upper Arlington says that approach puts you at risk of damaging your smile. To learn why that's the case, here's a summary of overbrushing's effects, signs, and prevention methods.
Wait, You Can "Overbrush" Your Teeth?
Yes, you can. Also known as "toothbrush abrasion," overbrushing occurs when you apply too much force to your toothbrush during your daily teeth-cleaning. It has multiple negative effects.
For starters, overbrushing wears away your enamel. Since plaque is soft and quickly wiped away, you don't need much force to get rid of it. On the other hand, using your toothbrush forcefully can remove bits of your teeth's protective layer along with the bacteria.
Next, "toothbrush abrasion" can damage gum tissue. You risk irritating your gums when you press down on them while brushing. As a result, you increase your chances of getting gum disease and cavities.
Signs You're Brushing Too Hard
At this point, you probably want to know if you qualify as an over-brusher. To find out, see if you have these common signs of overbrushing:
Gum Recession: As a result of excess pressure, overbrushing can cause your gums to recede over time. This recession is known to sometimes result in gum disease.
Exposed Tooth Roots: When gums recede from overbrushing, they also expose the sensitive root area of teeth. In doing so, they make these roots more vulnerable to cavities.
Toothbrush Lasts Less Than 3 Months: A toothbrush less than three months old should look relatively new. If it seems beat-up instead, you may be brushing too hard.
Proper Toothbrushing Technique
Brushing your teeth well is about following the right methods, not how hard you scrub. Follow the proper brushing steps below to prevent the signs and risks of overbrushing.
First, grab a soft-bristled toothbrush. From there, place it at a 45-degree angle compared to your gums. Next, gently move the brush back and forth to clean the teeth's outer, inner, and chewing surfaces. Make sure you follow this last part for about two minutes or so.
Brushing your teeth harder won't make your smile healthier and whiter. Remember the signs and tips above so your toothbrush helps your teeth rather than hurts them.
About the Author
Dr. Angela Courtney is a dentist in Columbus, OH, having earned her DDS from Ohio State University's College of Dentistry. A born perfectionist, she strives to give her patients the healthiest and best-looking smiles possible. To that end, she studied at the world-renowned Las Vegas Institute for Advanced Dental Studies for her post-graduate education. Dr. Courtney currently practices at Artistry Smile Center and can be reached at her website and by phone at (614)-451-7393.