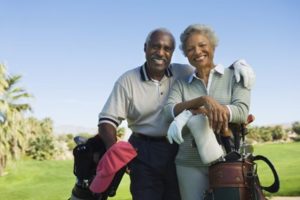 Out of all Americans, retired seniors have the most active lifestyles. This is the group that is focused on living life to the fullest and wants to look and feel great while doing it. Most people want a bright, beautiful smile, but does it make sense to even explore cosmetic dental treatments after the age of 50? Keep reading to see what your cosmetic dentist in Columbus can do to restore your smile as you progress in age.
Cosmetic Dentistry and Age
According to the American Academy of Cosmetic Dentistry, a majority of cosmetic dentistry patients are between the ages of 40 and 49, followed by those ages 50 and up. With age, your teeth are likely to experience discoloration and common wear and tear. Your risk of developing decay and cracks also increase. Therefore, cosmetic dentistry is an excellent option.
Common Dental Flaws
Many dental issues become more prevalent as the years continue to pass. Tooth loss, gum disease, tooth discoloration and dental sensitivity are the most common problems for retirees, but there are many more. Medications can also cause dry mouth, which opens the door to even more oral health issues like tooth decay and ulcers.
Common Cosmetic Procedures After 50
Advances in technology have made it easy for anyone to achieve the beautiful smile they've always wanted, especially seniors! Two of the most common cosmetic treatments for seniors include teeth whitening and veneers.
Teeth Whitening – A bright, white smile can help you look how you feel: happy, energetic and ready to enjoy life! It can also make you look younger, healthier and friendlier. If you're looking for immediate results, a ZOOM! Whitening treatment from your dentist can make your smile up to 10 shades whiter in 45 minutes! If you prefer to brighten your smile at home, an at-home whitening kit purchased from your cosmetic dentist can offer results that over-the-counter whitening products can't provide.
Veneers – Veneers are thin, custom-made shells of porcelain that are bonded to the surface of your teeth for a brighter, more symmetric appearance. This treatment is an excellent fix for those with worn-down enamel, dental chips or cracks, crooked or misshapen teeth or severe discoloration that cannot be corrected with a whitening treatment. 
Millions of people, especially senior citizens, get cosmetic dentistry treatments every year. Whether you're getting back into the dating scene or have retired and are ready to live the life you've worked so hard for, you deserve to have a gorgeous smile. If you're ready to get started, schedule a visit with your cosmetic dentist to see which options might be best for you.
About the Author
Artistry Smile Center is committed to providing patients with comfort, understanding and top-quality dental care. Dr. Angela Courtney received her Doctor of Dental Surgery from The Ohio State University College of Dentistry and chose the world-renowned Las Vegas Institute for Advanced Dental Studies for her post-graduate education. She is a self-proclaimed perfectionist when it comes to her dentistry and has a reputation for providing consistently excellent results while putting patients at ease. If you're ready to have a dazzling smile, contact the office at (614) 451-7393 or visit the website to schedule your appointment today.