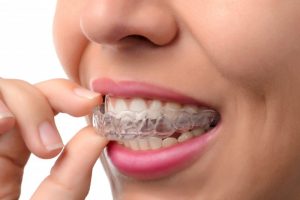 Studies show that one-third of people say the first thing they notice about a person is his or her teeth. And another data set reveals that 73 percent of people would trust a person with a nice smile more than someone with a fashionable wardrobe or flashy car. More importantly, though, is the way the appearance of your ivories makes you feel. Thus, if you've been suffering from misaligned, crooked or crowded teeth, it has affected your self-esteem. That's why your dentist recommends Invisalign in Upper Arlington to correct the look and function of your pearly-whites. She is also aware that you probably have many questions about the procedure, so she'll weigh in with answers as you continue reading.
What is Invisalign?
The Invisalign method of correcting your teeth uses BPA-free clear plastic trays to make adjustments in a comfortable manner. At your initial consultation, your dentist will determine whether you are a good candidate for the process. Then she will conduct some measurements, photograph your teeth and take a bite impression so that your custom trays can be fabricated. When they are ready, you will go back in to acquire all of them.
You will wear each set of trays for two to three weeks and then discard them for the next pair in the sequence, following this pattern until the end of your treatment process.
How Long is the Treatment Process?
One of the most attractive aspects of the Invisalign method is that it usually can correct your smile faster than traditional braces. Whereas the latter can take anywhere from two years or more, the Invisalign method can deliver a perfect smile in 12 to 18 months in most situations.
What's Another Difference Between Invisalign and Traditional Braces?
Traditional braces rely on metal brackets and wires to adjust your teeth. One of the aspects that some patients don't like is that they easily draw attention to the mouth. Invisalign, instead, allows you to adjust your teeth in a discreet manner using clear trays, which will be virtually invisible.
How Long Must I Wear My Trays Each Day?
To ensure that you don't lose ground and get the maximum benefits, your Invisalign trays must be worn at least 22 hours per day. However, you'll be able to remove them to eat and clean your teeth just like you normally would. This is a big plus for maintaining the lifestyle that you're accustomed to and ensuring that you're able to practice the absolute best oral hygiene.
What's the Cost?
In most cases, the cost of Invisalign treatment is similar to that of traditional braces. When you consult with your dentist, you will be able to get an exact price relative to your specific condition.
So now you know more about the Invisalign process and you're ready to make a change in your life by acquiring the smile that you've always wanted. If you have more questions or want to schedule an appointment with your local expert, just reach out today!
About the Author
As a patient of Dr. Angela Courtney, you will be aware that you are in the competent and capable hands of a professional that is truly passionate about helping people. She is also highly credentialed, earning her Doctor of Dental Surgery degree from Ohio State University and then going on to receive post-graduate training at the prestigious Las Vegas Institute for Advanced Dental Studies. Dr. Courtney practices at Artistry Smile Center and can be reached for more information through her website.