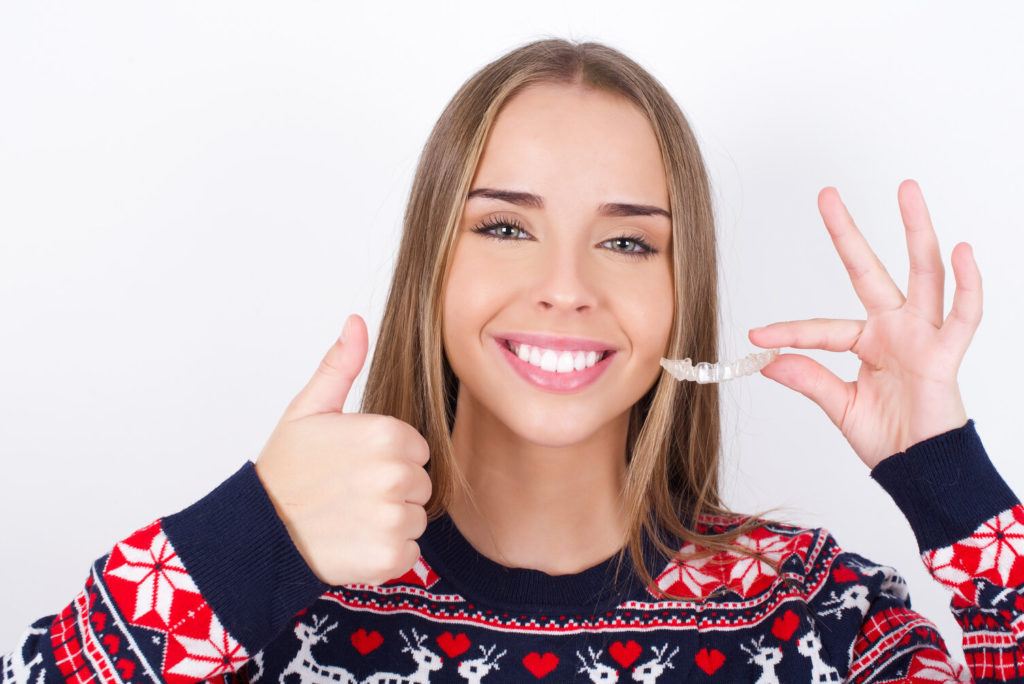 According to Invisalign's website, over 11 million people have used their clear aligners to straighten their teeth since they were founded in 1997. That means there will likely be many people learning how to navigate the holidays with Invisalign this season. To avoid treatment delays and continue to get closer and closer to the smile you've always wanted, read on to learn four tips to help you survive the holidays with Invisalign.
Tip #1: Don't Wear Your Aligners When You Eat
Wearing your aligners while eating or drinking anything other than water can cause them to become stained or damaged. Additionally, consuming very hot foods can warp the plastic and prevent your aligners from fitting properly. While you wait for new ones to be made, this can cause serious delays in your treatment plan. Make sure to remove your aligners before meals to avoid these issues.
Tip #2: Brush and Floss Your Teeth
Make sure to brush your teeth at least two times per day with a soft-bristled toothbrush and fluoride toothpaste to remove plaque. Floss at least once, preferably before bedtime, to remove food particles between the teeth. Since you're likely to eat and drink more often than usual during the holidays, consider doing this even more. You may also want to carry around a dental travel kit that contains a toothbrush, toothpaste, and floss so you're able to clean your teeth wherever you go.
Tip #3: Wear Your Invisalign
Invisalign aligner trays need to be worn for at least 20-22 hours each day to make them as effective as possible and stay on track with your treatment. No matter how busy the day gets, make sure to put your aligner trays back in after meals. Clean your teeth before doing so to avoid transferring food particles to your aligners, which can stain them or increase your chances of developing cavities.
Tip #4: Keep an Invisalign Case on Hand
When preparing to dig into a holiday feast, many people place their aligners on a napkin instead of in their aligner case. This makes you more likely to lose or misplace your aligners. To make sure that you don't accidentally throw your Invisalign into the trash, store your aligners in a carrying case. You man even want to consider keeping a case near the dinner table so it will be there when you need it.
Don't let the chaos of the holidays keep you from achieving the smile you deserve. Use the four above tips to stay on track, and you'll be showing off your new and improved pearly whites in no time!
About the Author
If you're worried about keeping up with your Invisalign this holiday season, Artistry Smile Center can help. Led by Dr. Angela Courtney and Dr. Christy Cox, they are experts at helping their Columbus patients straighten their teeth. They can offer tips and advice on how to avoid treatment delays this holiday season so you can stay on track to achieve the smile you've always wanted. To schedule an appointment with Artistry Smile Center or if you have questions about how to keep your Invisalign treatment plan on track this holiday season, call them at (614) 451-7393 or visit their website.