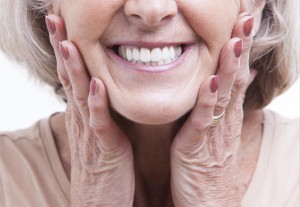 If you are missing several teeth, then you may be wondering whether or not dentures are a good option for tooth replacement. You've no doubt heard about or maybe even seen someone wearing dentures when they happen to slip, click or even fall out. No one wants that! There is a solution that combines the attractive appearance of dentures with the security of dental implants. Implant-retained dentures from Dr. Angela Courtney, your dentist for Upper Arlington, can securely restore your ability to eat, talk and smile.
You probably already know that dentures are prosthetic teeth that are mounted on top of a flesh colored acrylic base. This base rests on top of your gums and is usually held in place by suction, muscle tension in your cheeks and tongue, and denture adhesive if necessary.
Dental implants are tooth replacements that blend the security of an artificial tooth root with the aesthetic of a custom crafted tooth restoration. With an implant in place, you never have to worry about your prosthetic moving out of position. Moreover, the implant stimulates healthy new bone tissue growth in your jaw. Without this, you run the risk of losing bone volume, which can lead to a slackened jaw and an aged facial appearance. Thus, while traditional dentures go a long toward restoring the natural appearance of your smile and your face, they do not help to maintain your healthy jaw.
Implant-Retained Dentures for Upper Arlington
Implant-retained dentures, on the other hand, can do exactly that. The implants that are strategically positioned along your jaw to hold your dentures in place help you avoid bone resorption and the consequential facial changes. The implants bond with the surrounding bone tissue to create a solid foundation for your partial or full denture.
Your dentures will be custom crafted in a dental lab according to Dr. Courtney's exacting specifications. Implant-retained dentures are outfitted with a metal framing that runs along the underside of the base. This metal framing securely attaches to each of the implants along your jaw. Once your dentures are in place, there's no chance of them slipping or falling out, and you can enjoy the added benefits of a healthy jawbone and youthful appearance.
Call Your Dentist for Upper Arlington Today
If you would like more information about implant-retained dentures, or to schedule a consultation with Dr. Courtney, contact Artistry Smile Center in Columbus, OH. We also serve Upper Arlington, Dublin, and Westerville and the surrounding areas.