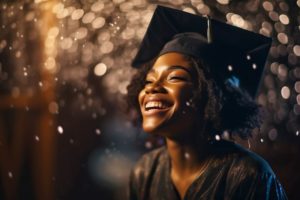 Graduating high school or college is a thrilling time. As you step into your new future, you want to be sure you look your best. One of the best ways to enhance your appearance is by improving your smile. By visiting your dentist, you can explore which cosmetic dental treatments can give you the healthy, beautiful teeth you've always wanted. Read on to learn about how cosmetic dentistry can benefit your next journey, as well as the available treatments.
The Importance of Having a Healthy, Beautiful Smile
Research has found that people first notice others' smiles more than any other feature. As you begin your future endeavors after graduating, you will be meeting so many new people. You want to make the best first impression possible, especially if it's a possible employer. By having a thriving and bright smile, you will make yourself memorable as you build your personal and professional connections. If you are comfortable flashing those pearly whites, you will convey a sense of confidence and competence. What better way to step into your new future after graduation?
What Careers Benefit from Having Healthy, Beautiful Teeth?
While great oral health is beneficial in any field, there are some careers that particularly benefit from an exceptional smile. These include:
Newscasters, meteorologists, and others who work on TV or media broadcasts
Businesspeople or salespeople
Teachers or lecturers
Lawyers
Restaurant staff
Beauticians, stylists, or others working with clients to improve their appearances
Repairmen, contractors, and others working with homeowners
What Cosmetic Treatments Are Ideal for Grads?
Modern advancements in dental technology and techniques have made it possible to meet so many needs of patients. Your dentist can now seamlessly fix various dental issues such as chips, cracks, and discoloration. Here are some perfect options for new graduates:
Professional Teeth Whitening: By using dental grade bleaching solution, your dentist can whiten your smile up to eight shades! You can either opt for an in-office treatment or conveniently use customized trays, so you brighten your teeth at home.
Veneers: Veneers can address a wide range of cosmetic concerns, such as chips, cracks, gaps, and stains. By covering your teeth with ultra-thin shells of dental porcelain, your teeth can instantly be transformed.
With cosmetic dental treatments, you can make your smile as bright as your future! By improving the appearance of your teeth, you will be ready for whatever comes your way after graduating.
About the Author
Artistry Smile Center keeps the smiles of Columbus healthy and beautiful through its two experienced dentists. They offer a full range of dental services with a spa-like experience so they can expertly craft your dream smile! With the use of advanced dental technology and customized plans, they can enhance your teeth with treatments like veneers and professional teeth whitening. To schedule a consultation, contact them through their website or call (614) 451-7393.