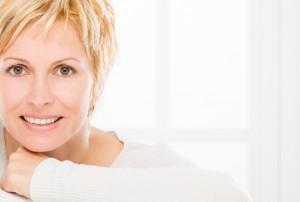 In just a few dental visits, you could have the perfect smile you've always wanted. Porcelain veneers from Columbus cosmetic dentistry expert, Angela Courtney DDS and her associate dentist, Samuel Kiner DDS, cover defects such as chips, unevenness, deep stains, pits and more. The result is a healthy smile that fully complements your facial features.
What are porcelain veneers?
Porcelain veneers are shell-like covers of fine dental porcelain. Custom-made by a master ceramist at an off-site dental lab, veneers fit precisely over the front side of teeth
Permanently bonded in place with tooth-colored cement, Columbus porcelain veneers change the shade, shape and even alignment of selected teeth right in the front of the mouth. Improving this "smile zone" creates a look that is younger, brighter, more attractive and even more durable than natural enamel alone.
The porcelain veneer process
It starts with a cosmetic dentistry consultation at Artistry Smile Center in Columbus. Dr. Courtney brings to the treatment room years of expertise and advanced training from the Las Vegas Institute for Advanced Dental Studies.
After discussing the patient's aesthetic goals, she performs an oral exam and takes digital x-rays and other sophisticated images. This gives the dentist a complete picture of the patient's oral health and bone structure. If teeth and gums are disease-free and without extensive restorations such as filling and crowns, she proceeds with a cosmetic treatment plan.
Dr. Courtney places a wonderful brand of porcelain veneers called MacVeneers by Microdental Laboratories. Working closely with the company's expert ceramists, Dr. Courtney ensures every detail of her treatment plan is perfectly executed, resulting in veneers that change not just tooth shape and color but that completely transform smile aesthetics.
To place veneers, the Columbus cosmetic dentist removes a 1/2mm slice of enamel from the frontside of each tooth. She places temporary veneers until the lab finishes the permanent ones. During a subsequent office visit, Dr. Courtney removes the temporaries and cements the final products in place.
To do so, she uses special adhesive and a curing light that hardens the bond, making it very strong and permanent. Adjusting for fit and bite, the dentist completes the veneer process and unveils the refurbished smile to the patient.
Living with veneers
Patients find caring for their new veneers simple. Just routine twice daily brushing and flossing keeps veneers, teeth and gums healthy. Dr. Courtney sees patients once after veneer placement to check on good fit and comfort. Afterwards, in-office check-ups and cleanings at Artistry Smile Center are every 6 months.
Would you like a dazzling smile?
Say goodbye to embarrassing smile defects by exploring cosmetic dentistry options, such as porcelain veneers, with Angela Courtney DDS. Contact her office today to arrange your own smile analysis.