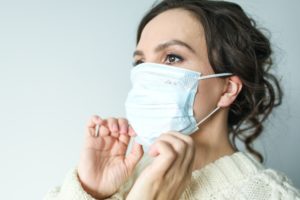 You've experienced many changes over the last several weeks as the country fights the COVID-19 pandemic. You've had to spend more time at home to practice social distancing to reduce the transmission of the virus. Besides keeping your distance, a face mask has also been recommended, but if you aren't wearing it correctly, you're putting yourself and others at risk of coronavirus. You can ensure you're doing your part to fight the virus by wearing your mask right. Your dentist in Upper Arlington explains how to wear it properly to protect yourself and others from certain infectious diseases.
Is a Face Mask Effective?
The Centers for Disease Control and Prevention recommends wearing personal protective equipment when in a public place to create a barrier. A face mask is a reusable or disposable loose-fitting covering that has ties or elastic bands that loop behind your ears or head to hold it in place. When worn properly, it can block the transmission of certain harmful pathogens, like microorganisms found in droplets, splatters, sprays, or splashes. Unfortunately, if the mask isn't worn correctly, it will be minimally effective.
How Do I Wear a Face Mask?
To ensure your mask properly filters out airborne particles, it's best to follow a few simple steps to put it on correctly:
Wash your hands with soap and water for at least 20 seconds or use an alcohol-based hand sanitizer.
Check your mask for any damage, like tears.
The colored side of the mask should be facing outward.
If the mask has a metal strip at the top, position it against the bridge of your nose.
Hold your mask in place using either ear loops, ties, or elastic bands.
Press the metal strip to contour to your nose.
Pull the mask down over your mouth and chin.
Check to make sure the mask fits snugly.
Don't touch the mask once it's in the right position.
If your mask gets damp or soiled, replace it right away. Be sure to wash or sanitize your hands before removing your mask. You also shouldn't dangle the mask from one ear or let it hang around your neck. It's best not to reuse a single-use mask. When it's time to dispose of your mask, follow a few easy steps to prevent any cross-contamination:
Wash your hands well or use hand sanitizer.
Avoid touching the mask. Instead, handle it by the loops, ties, or bands.
After it has been removed, dispose of it in a trash bin, being careful not to touch the mask.
Wash or sanitize your hands.
Reduce Your Risk with a Face Mask
A face mask is an easy way to keep yourself and others safe. Take the time to wear your mask correctly to help combat CVOVID-19.
About Artistry Smile Center
Artistry Smile Center keeps your safety in mind when providing dental services. We've updated our office protocols to ensure we are the cleanest place you visit all day. If you have any questions about our new standards or need an appointment, contact our office today.