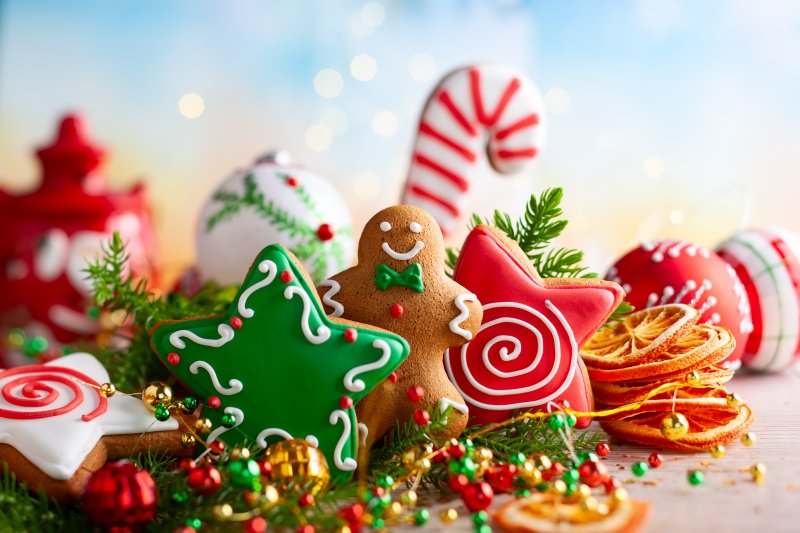 Did you know that the average American consumes over three pounds of candy during the Halloween season and more than 4,000 calories on Thanksgiving alone? Therefore, it isn't surprising that many patients wonder if the holidays are the worst time for their waistband and their teeth. If you've had the same sneaking suspicion, then you'd be absolutely correct. Fortunately, a dentist in Upper Arlington is sharing the biggest culprits of cavities and gum disease, as well as how to prevent it from happening to you.
#1. Sugar Galore
Chunky chocolate chip cookies, ooey-gooey pecan pie, and festive peppermint bark are just a few holiday staples that are jam-packed with sugar. And that doesn't include all the delicious seasonal beverages, like hot chocolate and eggnog! So, it's not hard to see why cases of tooth decay skyrocket this time of year. Fortunately, you can help protect your teeth by opting for low-to-no sugar alternatives, like vanilla chai tea.
#2. Constant Snacking
Today, the holidays just wouldn't be the same without copious amounts of food. While snacking is a great way to make sure it doesn't go to waste, it can lead to plaque buildup and decay. After all, your salivary glands, which produce saliva that washes away food particles and neutralizes acids, are not as active between meals. Therefore, do your best to eat a well-balanced breakfast, lunch, and dinner that will keep you fuller for longer, and drink plenty of water on the occasions that you do indulge in a snack or two.
#3. Getting Out of Your Normal Routine
Whether you are traveling out of town to be with loved ones or choosing to stay home for your time off, the holidays often disrupt your usual routine. Typically, the first thing to go is your oral hygiene regimen. Since this can leave your already vulnerable teeth subject to decay and cavities, make sure to brush and floss your teeth twice a day and pack all your dental care necessities if you are going out of town.
To prevent your holiday fun from turning into dental work in the new year, do your best to avoid the above common culprits of tooth decay and cavities. That way, you can enjoy all this season has to offer while simultaneously protecting your beautiful smile!
About the Author
Since earning her Doctor of Dental Surgery from the Ohio State University College of Dentistry, Dr. Angela Courtney has spent the last 20+ years helping patients in Columbus and it's surrounding communities achieve optimal oral health. At each appointment, she combines her gentle touch with her advanced training to help each patient enjoy getting the world-class dental care they deserve. So, if it's time for your routine appointment or your teeth need some end-of-the-year TLC, don't hesitate to visit her website or give her a call at 614-451-7393.