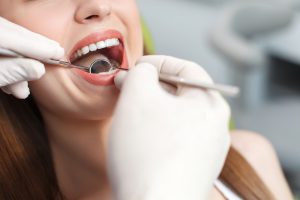 It's a new year and you're determined to make some changes, one involving your oral care. You have decided to be diligent about visiting your local professional for cleanings because you want to have the best-looking teeth and smile that you can. But your dentist in Upper Arlington wants to remind you that preventive dentistry is about more than just delivering a beautiful smile; it's important for your health. As you continue reading you'll learn more about the benefits of attending semi-annual visits.
How the Six-Month Visit Impacts Your Health
As previously mentioned, the six-month visit allows you to get a thorough cleaning to clear away troublesome plaque and tartar, leaving your teeth looking fantastic. But there is another part of the visit that is extremely valuable – the examination.
The Value of the Examination
The examination that you'll receive is very thorough, usually conducted in two parts – one by the dental hygienist and the other by your dentist. The one done by the hygienist can detect the following:
New cavities
Weaknesses in already installed crowns, fillings, and bridgework
Gum or bone recession
Teeth deterioration due to abnormal bite, bruxism (grinding of the teeth), or TMJ (misalignment of the jaw)
Still though, there are even more serious conditions that your dentist can catch during the second exam. Some of these can even be life-threatening:
Diabetes – Two things that your dentist will be especially looking at are yeast infection and gum disease. These can be indicators of the presence of diabetes.
Leukemia – Your dentist will feel around your neck for swollen lymph nodes and will also look for severely swollen and bleeding gums.
Cardiovascular Problems – Several studies have shown that people with periodontal (gum) disease may be more likely to have coronary artery disease than people with healthy mouths.
Immune Abnormalities – If you have advanced gum disease or oral infection, that could also be a sign that you have a weakness in your immune system.
Sinus Problems – If you're complaining of headache and tooth pain, your dentist may probe more for signs of a sinus problem.
Oral Cancer – During the oral examination your dentist will check for any white spots that could be signs of leukoplakia (the name for the white spots that can either be benign or cancerous). Severe cases of gum disease can also be a warning sign.
The main thing to take away from all of this is not fear but instead, a sense of awareness that the value of your semi-annual visit to your dentist is far greater than you may have previously thought. Thus, when you go in you can feel confident that you're accomplishing more than just protecting your smile – you're making a positive impact on your health.
About the Author
Dr. Angela Courtney received her Bachelor of Science degree in Biology from Bowling Green State University. She then went on to earn her Doctor of Dental Surgery degree from the Ohio State University. A member of the American Dental Association, Dr. Courtney practices at Artistry Smile Center and can be reached for more information through her website.