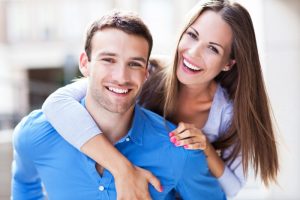 Did you know that on average more women visit the dentist than men? It's true. This may seem obvious as you look at your family around you, but dental habits are different between men and women. Who has better dental health in your household? Your dentist in Upper Arlington explains the differences men and women have when it comes to their dental habits. There are obvious differences between genders, but did you know men and women take care of their teeth differently? Let's discover some key variations between men and women's oral health.
Women See the Dentist More Frequently
Seeing your dentist at least twice a year for dental checkups is an important part of your oral health routine. Women are more likely to visit the dentist than men, and they are also more likely to schedule a follow up appointment on the same day as their visit.
Men receive much fewer dental checkups than women overall because they tend to visit the dentist when they have a dental problem that is causing pain or inconvenience. A study done on dental visits between men and women reveals that only 63% of men go to dental checkups, while 69% of women attend dental checkups.
Women Brush Their Teeth More
Women are over 8% more likely to brush their teeth the recommended amount (twice a day for two minutes each session). In addition, they are also 10% more likely to brush their teeth right after meals. Studies have shown that men skip brushing sometimes—their brushing schedules are more inconsistent than women.
Men Are More Risky
Men are much more likely to consume chewing tobacco products, cigarettes, and alcohol that can cause dental issues like oral cancer, gum disease, and much more. When using these products, men are also more likely to consume them at a higher rate than women.
Along with the risky products men are more likely to use, they also have an increased chance of participation in physical or contact sports. This can critically increase the chance of cracking, chipping, or losing teeth because men are also much less likely to use a mouthguard or protective gear compared to women.
Men Experience More Dental Problems
Because of some of the habits we have outlined above, it is no surprise that men have more dental problems out of the two genders. Women take care of their teeth more in their personal routines and they also visit the dentist more. Because of this, women have much fewer dental issues like cavities, gum disease, tartar buildup, and bleeding gums.
Although oral hygiene habits vary from person to person, you now know who in your household tends to have the better oral health care routine. No matter your gender, always try to maintain a healthy mouth by brushing and flossing daily as well as scheduling checkups with your trusted dentist.
About the Practice
Dr. Angela Courtney and Dr. Christy Cox are committed to building a relationship with their patients and providing them with the best care tailored to their specific needs. They currently practice at Artistry Smile Center where they are ready to help answer any questions you may have about your personal oral health routine. They can be contacted by phone at (614) 451-7393.