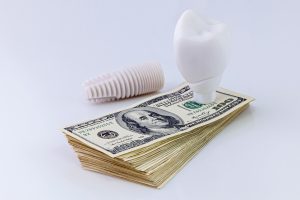 Are you ready to join more than 500,000 people this year who are ready to replace their missing teeth with dental implants? That is great! Your dentist in Upper Arlington can help you fill the empty spaces in your smile to improve your quality of life. Although you are ready to invest in your oral health, you are concerned about the cost of the procedure. It is no secret that they can cost more than traditional options, like dentures; however, that should not deter you from choosing them. There are several factors that will influence the cost of your new smile.

How Much Do Dental Implants Cost?
There is no set price tag for dental implants because the amount you will pay is based on your individual treatment plan. While you could call a dentist to ask about the cost of dental implants in Upper Arlington, this could provide you with a drastic misrepresentation about the amount you will pay.
The best way to get an estimate for your new smile is to schedule a consultation with your dentist. At this time, they will discuss your treatment plan and the various factors that will determine how much you can expect to pay, such as;
How Many Teeth are Being Treated: Typically, a single implant unit is more affordable than replacing an entire arch; however, implant supported dentures are cheaper than replacing each tooth individually.
Sedation and Anesthesia: Sedation or anesthesia will be used to ensure your comfort during the placement of your implant posts. The types used will increase or decrease the cost of your procedure.
Specialist: In some cases, you may be referred to a specialist for certain aspects of your procedure, especially if your treatment plan is complex. In addition to your dentist's fees, you will also have to pay those from the specialist.
Imaging: To create a customized treatment plan, you will require images to be taken of your mouth, such as x-rays or CT scans. You will have to pay for these services; however, they are necessary to ensure the success of your dental implants.
Additional Procedures: It is not uncommon to need additional procedures prior to the placement of your implants posts, like tooth extractions or bone grafting. Depending on the types of procedures that are needed, you can expect to pay more.
Dental Coverage: On average, dental insurance does not cover the cost of the procedure, but it may cover certain aspects of it, like the crown or tooth extractions. Depending on your coverage, this can help to reduce the cost.
Invest in Your Smile Today
After receiving your estimate, do not let the cost of the procedure prevent you from completing your smile. There are many payment and financing options available to accommodate your budget.
About Dr. Angela Courtney
Dr. Angela Courtney not only completed her general dentistry degree, but she also continued her education at the Las Vegas Institute for Advanced Dental Studies. Due to her qualifications and experience, she provides the latest solutions to help her patients reach optimal oral health. If you are interested in dental implants, contact our office today to schedule your consultation.