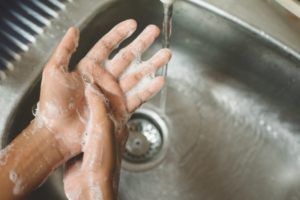 For the past few weeks, you've been doing well at adhering to social distancing guidelines like working from home and only going out when you absolutely need to. One day you accidentally chip your tooth biting down on a popcorn kernel, and you're not sure what to do? Is it safe to visit your dentist in Upper Arlington? Believe it or not, yes, it is! Here are some of the safety measures that dentists take to ensure that their offices are some of the safest places you could be.
Standard Health and Safety Precautions
Medical practices are especially adept at maintaining a germ-free environment, thanks to protocols set forth by the CDC and American Dental Association (ACA). Some of these standard protocols include:
Use of PPE. PPE, or personal protective equipment, entails everything that your dentist wears to protect them (and you) from germs. This includes gloves and face masks. Masks ensure that airborne particles are not passed on to you, and gloves prevent germ transmission form hand-to-mouth contact.
Hand washing. Your dentist and their team members will make sure to wash their hands in between patients. In addition, they wash their hands before putting on gloves.
Instrument sterilization. Any tool that your dentist or hygienist uses has been thoroughly disinfected. The CDC mandates that all instruments should be cleaned between patients, and your dentist makes sure to follow that guideline.
Office sterilization. The frequency at which your dentist's office is cleaned has increased. Additionally, there may be hand sanitizer laid out for you to use before your appointment.
Precautions Specific to COVID-19
Your dentist takes this pandemic incredibly seriously and as such, has implanted additional safety protocols, including:
Evaluating the health of their team members every day
Having patients wait in their cars until it's time for their appointments to begin
Asking patients to wash their hands and rinse with mouthwash before their appointments
Asking patients questions about their recent health upon arrival
Wearing additional PPE like face shields and shoe coverings
Even during a pandemic, your dentist's office is easily one of the safest places you could be. If you're suffering from a dental emergency, you shouldn't be afraid to call your dentist.
About the Author
Dr. Angela Courtney is a dentist in Upper Arlington who achieved her Doctor of Dental Surgery degree in 1996 from the Ohio State University College of Dentistry. She has also studied at the esteemed Las Vegas Institute for Advanced Dental Studies for her extensive post-graduate education. Her practice follows all of the protocols listed above and more. If you have a dental emergency, don't hesitate to contact Dr. Courtney at (614) 451-7393.