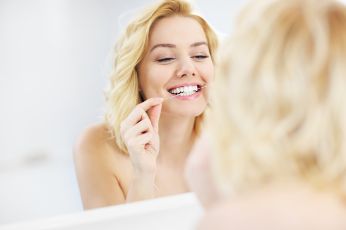 In this day-and-age, it's easy to get caught up in all the information out there about how to keep your teeth and gums healthy. But in this blog, you'll learn about the importance of going back to basics. These 3 habits should be the foundation of your routine to make sure your smile stays healthy and beautiful. If you can stay consistent with these 3 things, you'll minimize the amount of dental work you need from a dentist in Upper Arlington and enjoy great oral health for life!
1. Get Regular Checkups
Just like you take your car in for maintenance and oil changes to avoid expensive breakdowns, you also need to "take your teeth in" for routine maintenance. Here are just some of the problems you can avoid by getting checkups every 6 months:
Gum disease – Gum disease is the #1 cause of tooth loss and has also been linked to many serious conditions like heart disease, stroke, Alzheimer's, pregnancy complications and even some cancers. But, fortunately, good oral hygiene and regular dental care can prevent it altogether or stabilize it to keep it from progressing.
Large cavities – You might assume that you would immediately feel a cavity, but most people don't feel tooth decay until it's gotten larger. Then it usually requires more extensive treatment to fix, like a dental crown or root canal instead of a simple filling.
Early detection of oral cancer – You may not realize it, but dentists and hygienists both perform an oral cancer screening at every checkup. This visual exam checks all the soft tissues for any suspicious lumps, bumps or lesions. As with all cancers, early detection is key.
Dental emergencies – If you have any undiagnosed dental problems, you're at risk for a dental emergency, which can strike at the most inconvenient time (like a the middle of the night or a busy work day). Checkups allow these problems be found early and treated – on your own schedule.
2. Do Your Best To Floss Once a Day
This is one of the habits that people struggle with the most. Remember, aim for better, not perfect. Of course, it's ideal if you floss 7 days a week, but if you miss a day or two, don't give up entirely. Even consistently flossing just 3-5 times a week will be still be incredibly beneficial.
Also, if you find bedtime a difficult time to floss because you're tired, you can always floss right after dinner (or even lunch) when you have more energy.
3. Brush Twice a Day With Good Technique
It's not only how often you brush that matters, but the technique you use as well. Use a soft-bristled brush and angle your bristles at 45-degrees towards the gumline. Brush for a minimum of 2 minutes with light, gentle pressure, and make sure to brush the front, back and chewing surfaces of all your teeth.
Also, an electric toothbrush is an excellent choice for most people because it's practically guaranteed to do a more effective job than you can do with a manual.
About the Author
Dr. Christy Cox is a general and cosmetic dentist in Upper Arlington who is a firm believer in the power of consistent oral hygiene practices. She's made prevention the foundation of her approach to dental health so she can help her patients minimize the amount of dental work they need. If you have any other questions about oral health, she can be contacted via her website or at (614) 451-7393.