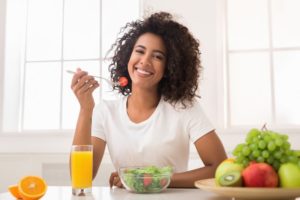 After the whirlwind of a year that was 2020, it's safe to say that most of us are striving to make 2021 a much better year. Maybe you've heard the phrase, "new year, new me," a few times, but you're not exactly sure how to apply it to yourself. Before you finalize your standard list of New Year's resolutions, like "work out more often," a dentist in Upper Arlington invites you to consider these four easy tips for keeping your smile healthy throughout 2021.
Stay on Top of Your Dental Hygiene
While most people remember to brush their teeth at least once per day, only about 30% of American adults floss on a daily basis. When it comes to maintaining a healthy smile, flossing is just as crucial as brushing. It's the only way to remove bits of food and plaque that get stuck between your teeth. your toothbrush can't access these areas, but flossing can prevent these harmful particles from causing tooth decay and gum disease.
Eat More Veggies
You probably grew up hearing your caretakers "nag" at you to eat your vegetables, but there's a good reason for it! Vegetables are rich in essential vitamins and minerals that strengthen your teeth and promote healthy gums. Plus, veggies with fibrous skins, like celery, can actually clean your teeth as you chew them.
Cut Back on Sugar
Besides improving your general health, reducing your sugar intake can mean a healthier smile for you by preventing cavities. Candy and other sweets are obvious offenders, but it's also worth pointing out that many alcoholic beverages also contain high amounts of sugar. Be sure to rinse your mouth out with water afterward to wash the sugar off of your teeth.
Schedule Your Next Dental Checkup
According to the American Dental Association, most people should visit their dentist twice a year, or once every six months, for a checkup and cleaning. These appointments give the dental hygienist the chance to professionally clean your teeth, removing plaque that contributes to gum disease and tooth decay. Your dentist will also examine your mouth for early signs of dental health issues, such as cavities and oral cancer. The sooner a problem is detected, the easier (and less expensive!) treatment will be.
Your smile is often one of the first things people notice about you, so it pays to take good care of it. Show your smile a little love by following the tips in this post, and you can keep your smile healthier in 2021 and beyond!
About the Author
Dr. Angela Courtney is a dentist in Upper Arlington, OH who obtained her Doctor of Dental Surgery degree from The Ohio State University College of Dentistry. Since then, she has spent the last 20+ years helping patients in the Columbus area achieve and maintain healthy smiles. At each appointment, she combines her extensive training with her gentle touch to give every patient the top-notch dental care they deserve. If you're interested in improving your oral health in the new year, visit her website or give her office a call at 614-451-7393.