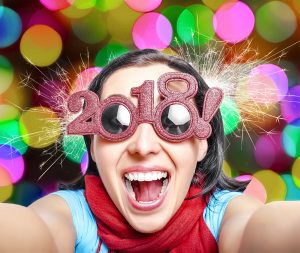 Have you been thinking about which resolution you'd like to make in 2018? Why not start with taking better care of your teeth and gums! Oral health is often one of the last priorities on people's lists, but the benefits of a healthy mouth are countless. Not only does taking care of your teeth mean you spend less time and money in the dental chair, but it also keeps your entire body healthier and increases your self-confidence. If you're on board for a healthier smile in 2018 and want some ideas on how to make your resolution a success, a dentist in upper Arlington discusses more.
What Benefits Can You Expect From Having a Healthier Mouth?
There are three big reasons to commit to better oral health this year: preventing the need for dental work over the long-term, improving your overall health and increasing your self-confidence.
While it's obvious that taking better care of your teeth will help you reduce the amount of time you spend in a dental chair, you may not have known that it can improve your general health as well. There's a lot of evidence showing that the health of your mouth and body are connected!
Researchers believe that people who have a healthy mouth have a lower risk for all of the following:
Diabetes
Heart Disease
Alzheimer's
Preterm or low birth weight babies
And finally, the impact of feeling embarrassed of your teeth can't be underestimated. Studies show time and time again that other people perceive those with a confident, healthy smile as more attractive, intelligent and trustworthy.
What's Your Action Plan?
Once you've resolved to improve your oral health, the first step is to make an appointment with a dentist for a checkup and cleaning. This gives you an opportunity to have a thorough assessment, ask any questions and make sure that you're starting off with a "clean slate".
Next, since you and your dentist work as a team with a shared goal of caring for your teeth and gums, they'll help you determine what you can do at home on a daily basis.
Of course, brushing and flossing are the foundation of any good homecare regimen, and the guideline is that you brush for two minutes at least twice per day, and floss once.
Having said that, everyone's specific needs are different and there are a lot of tools that may make it easier for you. For example, an electric toothbrush is a wonderful option that makes a big difference in how effective your brushing is. There are several different price points for these, so there's an option for everyone's budget.
In addition, there are many different types of floss, toothpicks, water picks and other tools that can help you stick to your resolution all year. There really is something that will work for everyone. It's simply a matter of finding what you like best.
Scheduling a visit with your dentist is a great way to get more ideas and information to help you have a smile you can feel good about all year.
About the Author
Drs. Courtney, Kiner and Cox are general, cosmetic and neuromuscular dentists that strongly believe in the power of a fresh start on the journey towards oral health. They love educating their patients on how to achieve excellent oral health at home as well as how the latest dental techniques can help them have the smile they've always wanted. They can be contacted for questions via their website, or at (614) 451-7393.