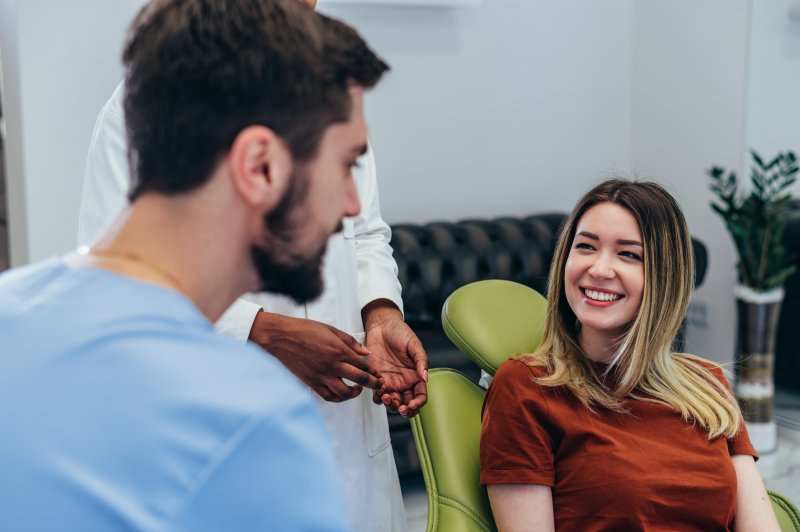 Are you struggling with minor flaws in your smile, such as chipped, gapped, stained, or misaligned teeth? If so, then a smile makeover might be the ideal solution for you. This treatment plan typically involves multiple cosmetic and restorative dental procedures—all of which depend on the kind of changes you're looking to achieve. But if you're still on the fence about this option, it's important to speak with your dentist in Columbus about it first. Read on to learn five questions you should ask before starting a smile makeover!
#1: How Long Will My Smile Makeover Take to Complete?
The length of your treatment plan will depend mostly on the severity of your dental issues. Those who have minor flaws in their smile may only need a same-day visit to address them. However, if a patient is struggling with multiple imperfections, then they might require a few treatments and procedures to improve their teeth. The best way to know how long your smile makeover will take is to consult your cosmetic dentist.
#2: Will My New Smile Look Natural?
Thanks to modern dental technology, you can be sure to achieve a smile transformation that won't look fake or overdone. Many restorations and prosthetics are made out of porcelain and other tooth-colored material, allowing your pearly whites to appear as natural as ever! To ensure your results match the look you want, find a qualified cosmetic dentist with plenty of professional experience beautifying smiles.
#3: What Dental Issues Can Smile Makeovers Fix?
With all the advancements in dentistry nowadays, nearly all cosmetic dental issues can be corrected. Many that are fixed include chipped, cracked, or broken teeth, misalignment, and staining. Whether your situation is minor or more complex, you can expect to receive flawless results with cosmetic dentistry.
#4: Can I See Before & After Photos of Previous Smile Makeover Patients?
One of the most convenient ways to know what you can expect from your streamlined dental treatment is to look at before and after photos of past patients. Your dentist will be more than happy to show you their previous work. You should especially ask to see examples of people who experienced similar dental imperfections as your own.
#5: How Will You Ensure My Results Last?
Getting a smile makeover takes a considerable amount of money and time to complete. The last thing you'd want is to go through all that work for short-term results. You should ask your dentist how they plan to maximize the lifetime of your enhanced teeth, that way you can feel confident that they'll do everything they can to help you make the most of them.
These are only a few questions to ask your dentist when preparing to undergo a smile makeover. Once you're both on the same page about your desired results, you'll be one step closer to showing a dazzling set of pearly whites!
About the Author
Dr. Angela Courtney received her dental doctorate from The Ohio State University College of Dentistry. She's also a member of several groups like the American Dental Association and the Columbus Dental Society. She offers a wide collection of high-quality and all-inclusive services, including smile makeovers. If you'd like to schedule a consultation, visit her website or call 614-451-7393.