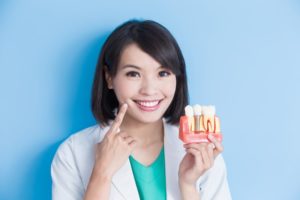 One little missing tooth can be a big problem in your daily life. Not only can it be more difficult to enjoy your favorite foods and feel good about your smile, but a missing tooth may also lead to health issues like overgrown teeth and jawbone deterioration. When you choose to replace it with a functional, lifelike dental implant, you can enjoy your life and your smile confidently. However, restoring your smile doesn't happen overnight with a quick trip to your dentist. Let's go over every step of the process so you know exactly what to expect when you choose to get dental implants in Upper Arlington.
The Dental Implant Consultation
First, your dentist needs to make sure you're healthy enough for a dental implant. Signs you're a good candidate include:
Healthy gums and teeth
No bone loss in the jaw
Good oral hygiene and dental habits
A healthy mouth is crucial for a successful dental implant placement and integration. If you have any issues like gum disease or inadequate jawbone structure, your dentist will work with you to create a customized treatment plan to get you ready for a brand-new smile.
Dental Implant Placement Process
Installing a dental implant is a multistep process that can generally be split into two phases. First, the implant needs to be surgically placed into your jawbone. This replaces the missing tooth's root, giving your new tooth its stability while also mitigating bone loss. Since fully integrating into the jawbone can take several months after the initial placement, you may be fitted with a temporary crown in the meantime.
Once it's fully healed, your dentist will take impressions and measurements of your mouth to design the tooth-shaped portion of your restoration. Once your new dental crown has been created and securely attached, it will look and feel just like a natural tooth.
After the Dental Implant Procedure
As you recover and your mouth continues to heal afterwards, try to only eat soft foods and keep the area clean with regular, soft brushing. Your new tooth could keep you smiling for the rest of your life if you take care of it properly by:
Regularly brushing and flossing to keep away infections.
Avoiding chewing on hard objects like ice and fingernails, which could cause damage.
Catching any issues with your dental implant as early as possible with regular dental checkups.
Don't let a missing tooth put a gap between you and enjoying life. The dental implant process is slightly different for every patient, but the end result is a dependable, beautiful smile. To get a better idea of what your unique process will be like, talk to your dental implant dentist.
About the Author
If you have missing teeth, Dr. Angela Courtney would be thrilled to help you restore your confident, beautiful, and functional smile with the help of restorations like dental implants. She is a graduate of the Ohio State University College of Dentistry, and her passion for learning and excellence motivated her to complete core courses of continuing education at the world-renowned Las Vegas Institute for Advanced Dental Studies. If you have any more questions about the dental implant process, she can be reached at her website or (614) 451-7393.