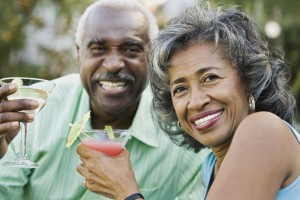 Patients who are currently living with tooth loss understand the challenges it presents. Eating the healthy foods you used to enjoy becomes more difficult and smiling or talking to people may feel embarrassing. Living with one or more missing teeth takes a toll on your health, nutrition, and self-esteem. Dental implants in Upper Arlington are an excellent solution, but are they right for your needs? Here are 4 facts you should know about dental implants.
Implants Replace Your Missing Tooth and Root
Dental implants utilize a titanium post that is surgically placed into your jawbone to replace your natural root. Titanium is biocompatible, which will naturally integrate with your bone over a healing period of 4-6 months. This creates a firm foundation for your implant crown and allows it to provide all the function you enjoyed with your natural tooth.
Eating is Easy With Your Implant
Because your dental implant closely mimics your natural tooth, you'll be eating and chewing with ease again. There are no restrictions or foods to avoid like there may be with dentures or a dental bridge.
You'll also enjoy the esthetics your implant provides, as it is designed to match your teeth and complement your smile. No one will ever know you were missing a tooth!
Implants Have a High Success Rate
Dental implants do require a few things in order to be successful. The patient should be in good overall health, and have enough healthy bone structure to support the implant. With these factors in place, implants boast a 95% success rate. They also offer great longevity, as with excellent home care and regular dental checkups they can potentially last a lifetime. Your dentist can determine if you're a good candidate for implant dentistry with a thorough examination and x-rays.
Implants Protect Your Oral Health
Besides restoring your confidence, did you know that your dental implant is also protecting your oral health? Without a root to support, your bone will deteriorate. This not only changes the appearance of your face, but also eliminates support for your remaining teeth, eventually leading to more tooth loss.
Without a replacement tooth, your healthy teeth will begin to shift into the open space, putting them at risk for fractures and other damage. This will also cause bite misalignment, which can lead to headaches and problems with your jaw joint.
Contact Artistry Smile Center
Dr. Angela Courtney and her team are proud to offer implant dentistry to their patients. We're happy to help you determine if this innovative treatment is right for your needs and guide you through the process if you move forward.
Would you like to learn more about dental implants? Give your dentist in Upper Arlington a call today to schedule your consultation.