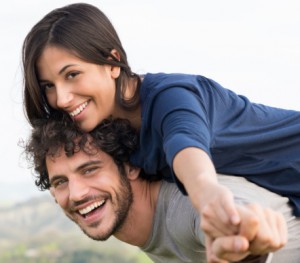 Should you pull it or preserve it? Dentists such as Dr. Angela Courtney and Dr. Samuel Kiner of Artistry Smile Center in Upper Arlington favor preserving natural teeth if possible. Learn about the tried and true restoration called the dental crown and how it can save a damaged tooth for many years of additional service.
What is a Dental Crown?
A dental crown, or cap, is a great alternative to tooth extraction. While sometimes unavoidable, extraction creates an unattractive smile gap, weakens remaining teeth and their positions within the mouth and causes gums and bone to recede. The dental crown leaves the natural root in place, avoiding many of these oral health issues.
Made from gold, porcelain fused to metal or all ceramic, a dental crown completely covers healthy tooth structure remaining after injury, deep staining, multiple fillings, fracture, abscess or root canal therapy. Crowns also cover today's best tooth replacement option–dental implants.
To prepare tooth for a dental crown, your family dentist in Upper Arlington will inspect your tooth and general oral health. She also will take digital-rays for a complete picture of the root and underlying bone.
If a tooth is healthy and strong enough to accept a dental crown, Dr. Courtney or Dr. Kiner will remove decayed or damaged portions of the tooth and shape it to receive the crown.  The dentist covers the prepared tooth with a temporary cap to protect it while the new restoration is crafted.
The dentist takes oral impressions to send along with a treatment plan to a partnering dental lab in the Upper Arlington area. At the lab, a technician uses the impressions and other information to custom-make the dental crown.
During a second dental appointment, the dentist removes the temporary crown and cements the new one in place, adjusting the fit and ensuring the crown bites properly with the opposing arch of teeth. The process is relatively quick and very comfortable.
Dental crowns also support the artificial teeth that are part of fixed bridgework. They cover teeth restored by root canal therapy, a traditional and reliable treatment which removes infected tooth pulp, leaving the hard outer tooth structure in place.
Are You a Good Candidate?
If you have sufficient healthy tooth structure and are free from gum disease and dental abscess, you likely can receive a dental crown. Good candidates brush and floss daily as recommended by the American Dental Association and receive exams and cleanings twice a year at Artistry Smile Center.  With good aftercare, a dental crown lasts 7 to 10 years or more.
What Tooth is Concerning You?
Don't just say, "Pull it." Step back, and find out if a dental crown can preserve that injured or failing tooth. Contact Artistry Smile Center today to set-up a restorative dentistry consultation with one of our expert dentists. You'll feel better and look better for it!